Looking for ideas while your kids are home? Here are 6 super simple meal and snack ideas to make food fun for your kids.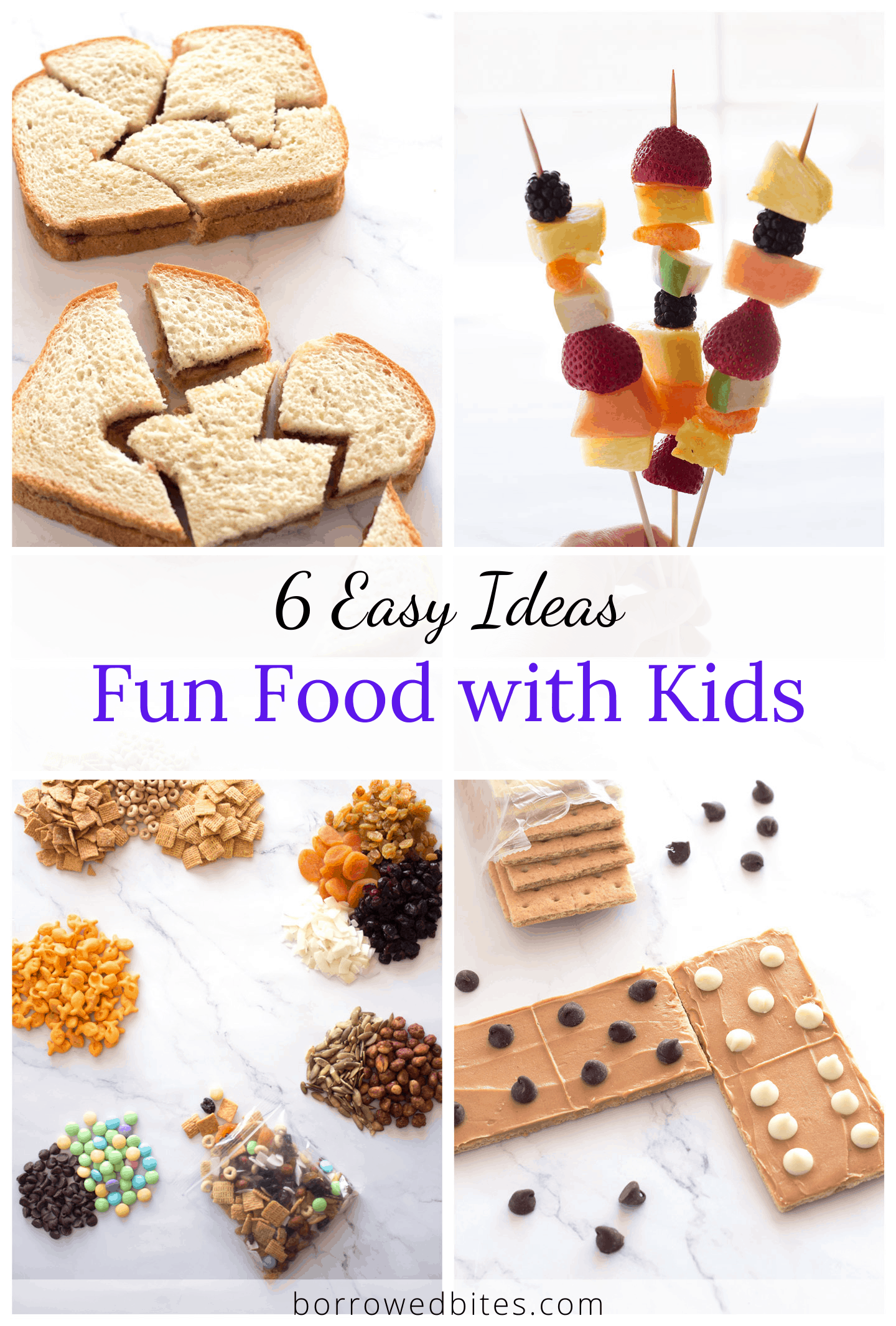 In my former life, I homeschooled my 5 kids K-12. They were home all day. EVERY DAY. I live to tell the tale. The question is...am I sane? 😜
When I was a young mom, my mother gave me some great advice about doing activities with kids. She said, "Look at it this way... if my child takes 15 minutes to take apart a Kleenex box, and it takes me 5 minutes to put it back together... I have netted 10 minutes of productivity." What wonderful advice! May these little activities gain you a few minutes of productivity and your kids a few moments of fun.
Watching all the changes that are happening in the country right now brought back memories of all that I did when my kids were little. None of these ideas take more than 15 minutes, but those few minutes can turn a mundane part of the day into an opportunity for making memories. Hopefully, you find an idea or two to help ease the boredom whether it be quarantine, spring break, summer vacation, or just in the day-to-day of life.
PB&J Puzzle Sandwiches
I don't remember if I saw this idea somewhere or if it just came to me, but it is one of the best memories I have of feeding the kiddos lunch. Take a typical PB&J sandwich (just be careful not to make the jelly layer too thick) and with your imagination cut each sandwich into puzzle pieces. Disassemble the sandwich before putting it on the plate. Of course keep in mind the developmental abilities of each child. As mine got older I had to make sure they didn't watch me cut them. Sneaky little buggers!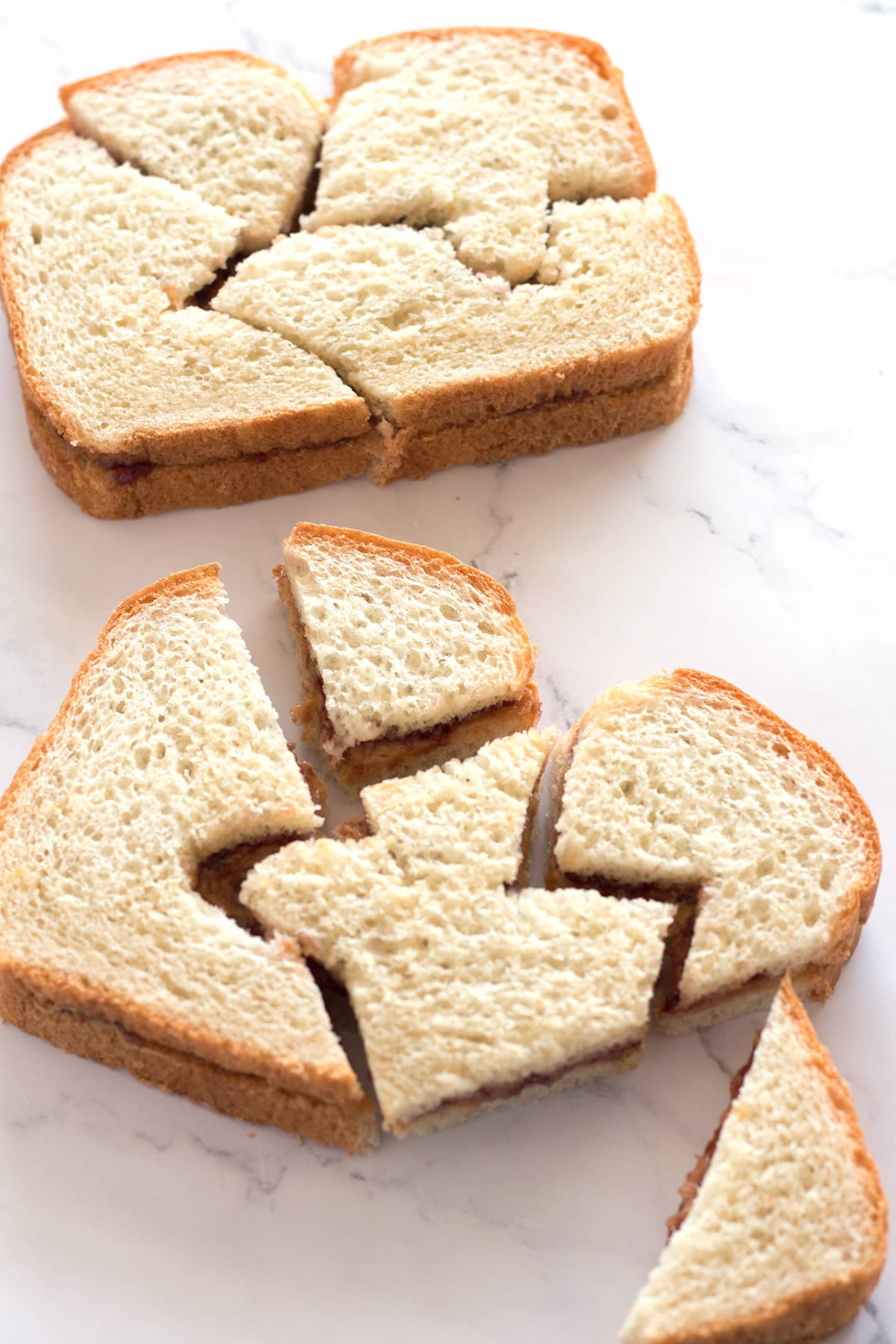 Frozen Grapesicles
We live in the desert. It gets HOT! One of the best treats were frozen grapes. After getting them home from the store I would put one child in charge of taking them off the stem, washing them (grapes can be extraordinarily dirty), drying them on a clean towel, and then laying them out in a single layer on a sheet pan. Pop the sheet pan in the freezer for about an hour until they are firm. Then transfer them into a zipbag or freezer-safe container of your choice.
Fruit Kebobs
This is such a fun one, but it comes with a disclaimer... please make sure your child is old enough to perform this task without stabbing themself with the skewer. If you feel they are too young or do not have the motor skills, it is easily adaptable. Take whatever fruit you have around and cut it into appropriate-sized chunks if necessary. This is a great task to give to your kiddos depending on their experience in the kitchen. Now it's time for them to skewer it up. A great chance to practice patterns, color recognition, counting, etc. If the skewer isn't appropriate, just have them do the same thing on a plate.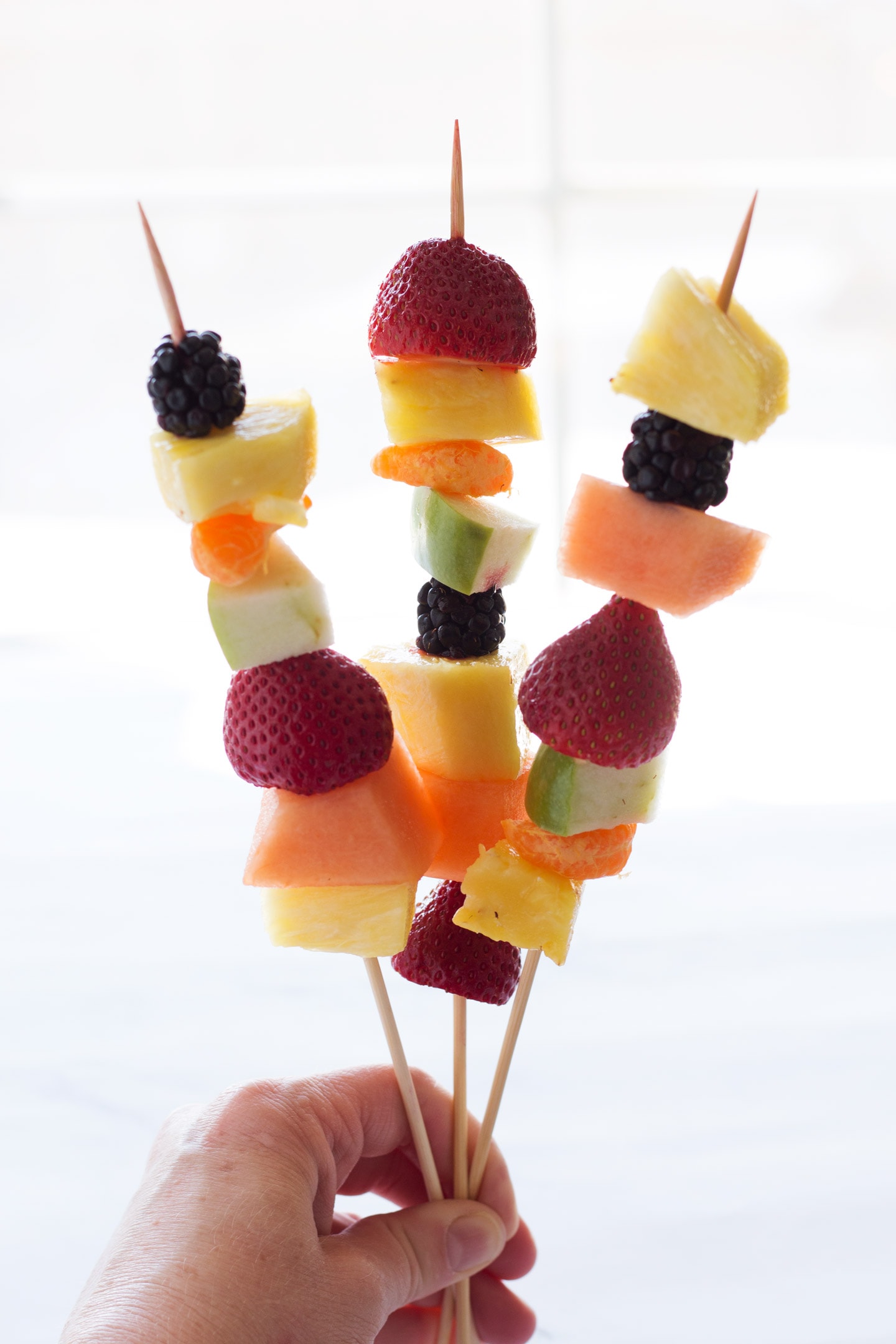 Frozen Smoothie Popsicles
Such an easy one and so flexible. Take your favorite smoothie recipe or go crazy and wing it with what you have on hand and pour it into popsicle molds. Ours look like this. If you don't have molds, dixie cups and popsicle sticks will work. This can be a great way to use up fruit that is nearing its expiration, adding in some extra protein with yogurt or cottage cheese, and maybe even sneaking in some extra greens.
Dominoes
This particular one elicits fond memories for each of my kids. Typically I would give them graham crackers, peanut butter, and a few chocolate chips. You can use any rectangular cracker, although if it is smaller, then you might need the mini chocolate chips. Feel free to use frosting instead of peanut butter or any other nut/seed butter. If the chocolate chips are running low (don't look at me 🤷🏼‍♀️) feel free to substitute raisins, craisins, etc. Any small, round dried fruit would be great.
This is an opportunity to review counting, patterns, matching, and sneaking some chocolate chips into your mouth while no one is looking. Hey, that is a valuable life skill. 😆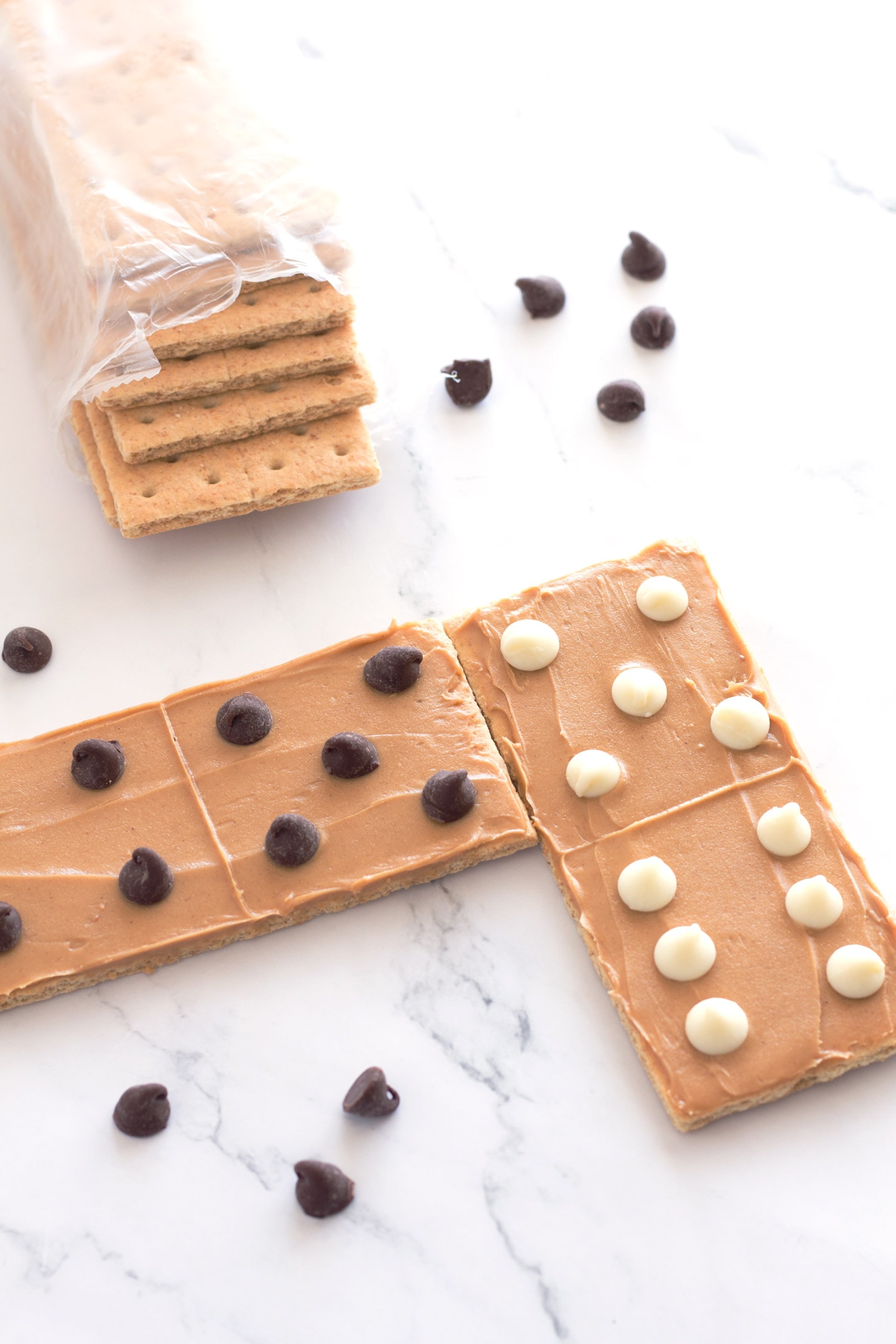 Make Your Own Snack Mix
I love this one. Take 5 minutes and pull out all the odds and ends you have in the pantry. Add a couple fun items and hand each child a zippy bag. Sometimes I would have my kids make one bag for each day of the week all at once. That way we just had to grab and go when life was busy.
Ideas
Dry cereal
Dried fruit
Cracker, pretzels, goldfish, etc..
Nuts and seeds
Chocolate chips or candies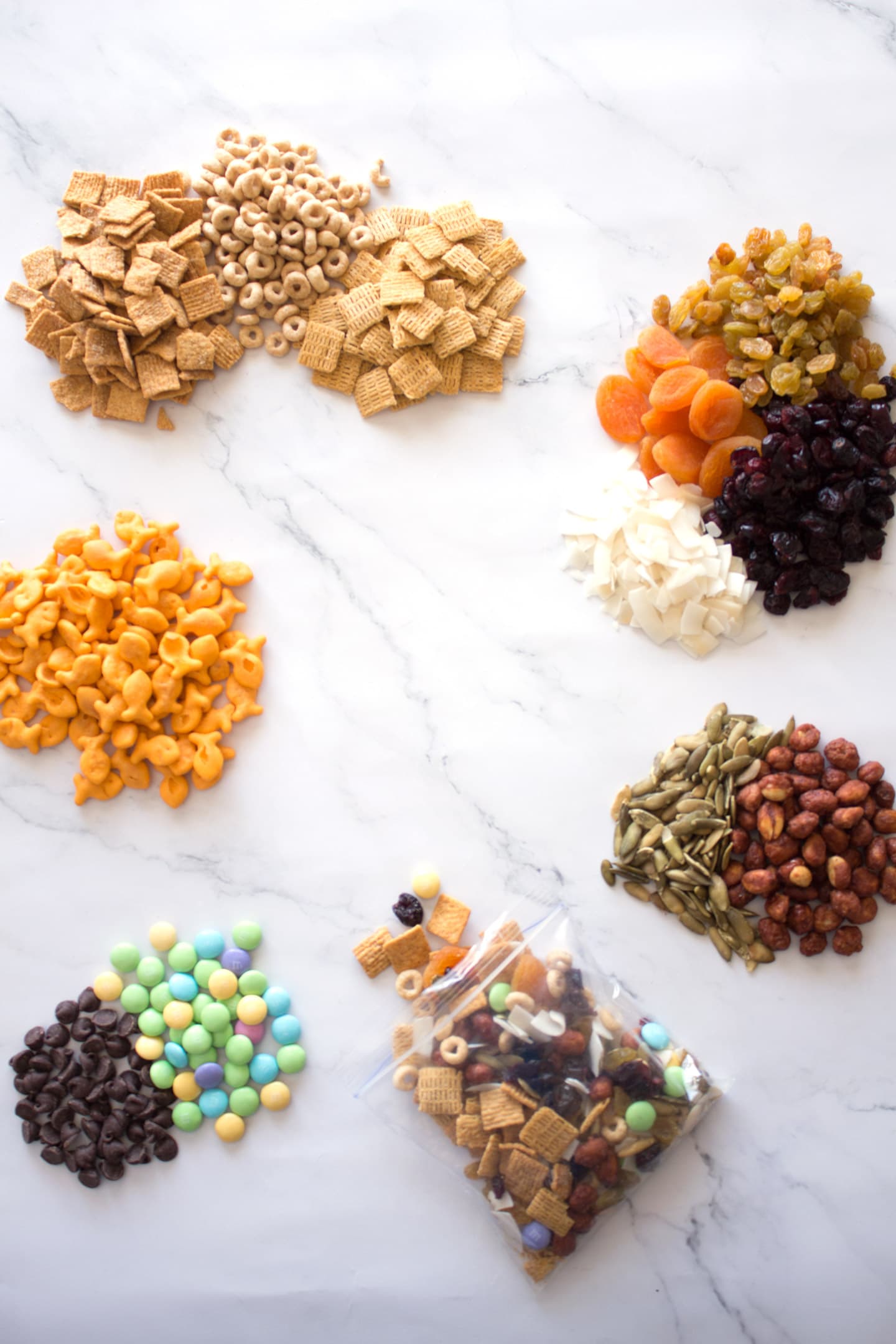 When I was brainstorming for this post and then taking pictures it was so fun to watch the reaction from my now adult children. That's one of the big lessons in my life...the power of food. Food often goes beyond just the nutritional necessity. It can invoke a strong emotional response. May we all find ways to inject a little bit of food fun into our families.
Please leave any ideas that you do with your family in the comments. What a great time to learn from each other!

Want Cooking Ideas For Older Kids?
One of the best gifts we can give our kids is the ability to cook for themselves. Start with some basics.
👋 Connect with us!
If you try any of these ideas, please leave a comment to let us know how it is! We'd also love to connect with you on Facebook, Instagram, or Pinterest. Tag @borrowedbites or hashtag #borrowedbites to show us your food! To get our new recipes straight to your email, subscribe to our newsletter.