In just 4 steps and less than an hour this practical guide will help you create a master plan based on your family's preferred meals so you can homeschool and still get dinner on the table. Plus additional practical tips along with 10 easy weeknight dinner ideas to get you started.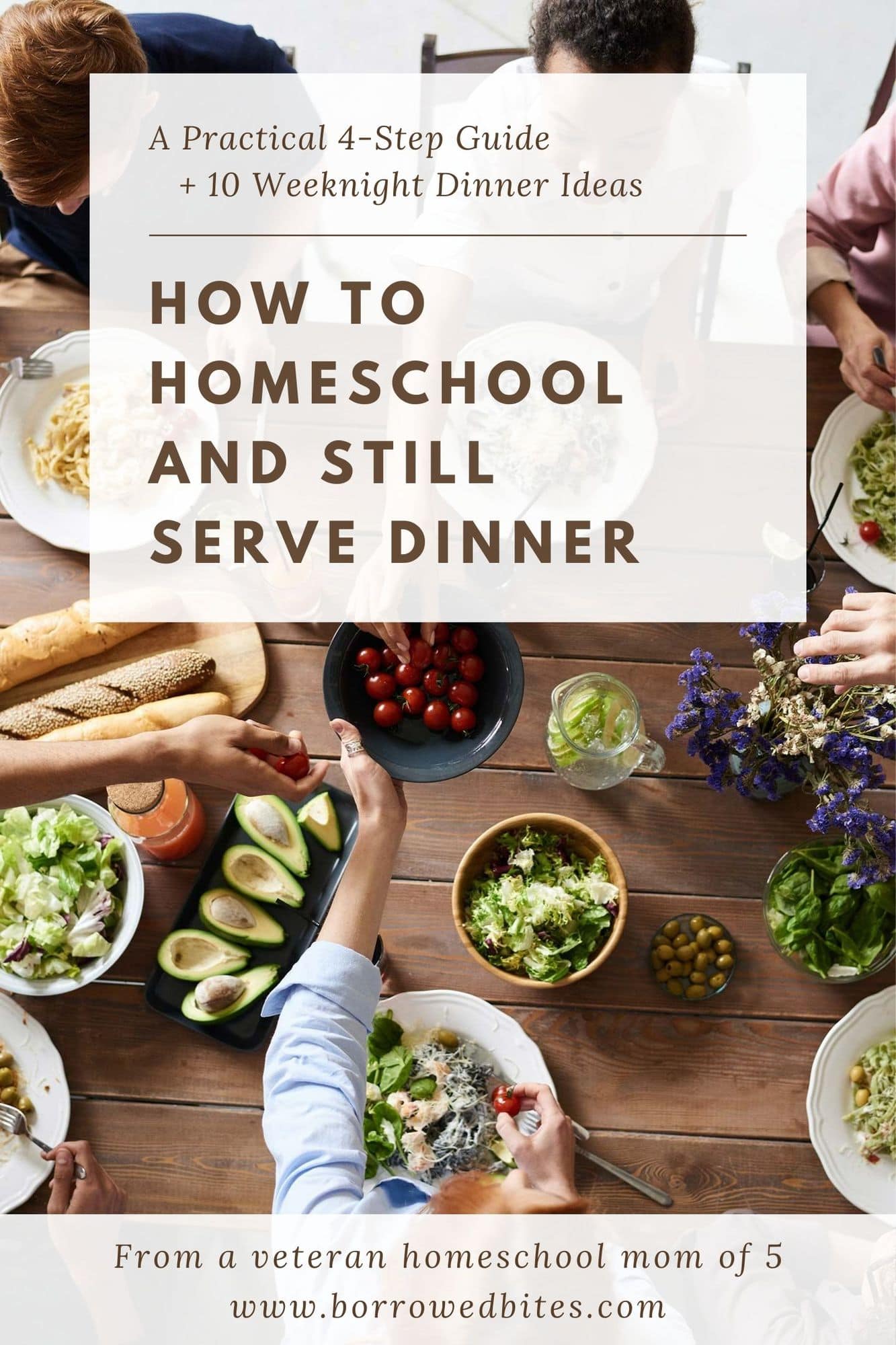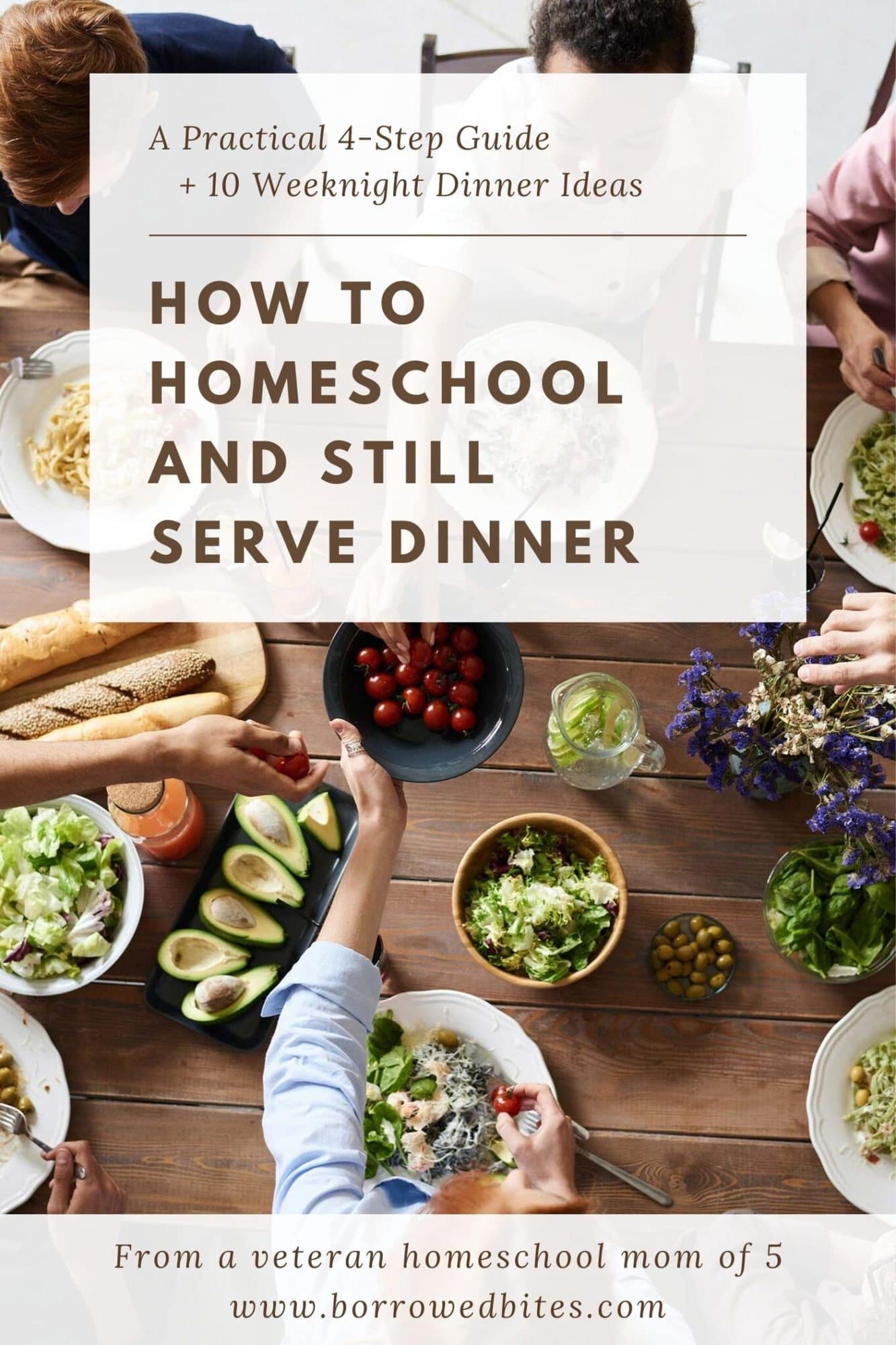 Skip to:
📖 Background
Hi! In case you don't know me, my name is Danielle. I spent 20 years homeschooling my five kiddos from K-12. During those years we had various seasons of sports, youth group, music lessons, co-ops, and homeschool group activities, yet we were able to homeschool all day and still serve dinner. (It wasn't always pretty though. #pb&jelly) We are a single income family so frequent eating out or paying for a service wasn't in the budget, especially as they got older and no one was eating kids' meals anymore.
I tell you this because I want you to know the circumstances under which this post is written. We are an average homeschooling family, but for 20 years I would homeschool and still cook dinner an average of 6 nights per week. I'm not saying that to toot my own horn, but really to say it's possible. I promise that I do not possess any hidden superpowers. It will look different for you than it does for me, but it is possible.
But before we pull out the helpful hints and tips there is one thing I want to say. Be kind to yourself. Homeschooling your kids, whether you have chosen it or it has been thrust upon you, is challenging. Add to that all the regular responsibilities of a family, for some working outside the home, and you have 2-3 full-time jobs happening.
Having said that, feeding your family dinner and homeschooling is absolutely possible. Since each family situation is unique, this master plan is completely customizable to your needs. We will break it down into actionable pieces which will help you build a plan that bridges the gap from overwhelm to manageable.
But, if things don't go the way you hoped the first week, evaluate why (kindly), and try again the next week. Focus on baby steps. You don't have to master this in one week or even one month. Just plug away and eventually you will find a balance that gives you freedom. Enough of that, let's get to the practical bits.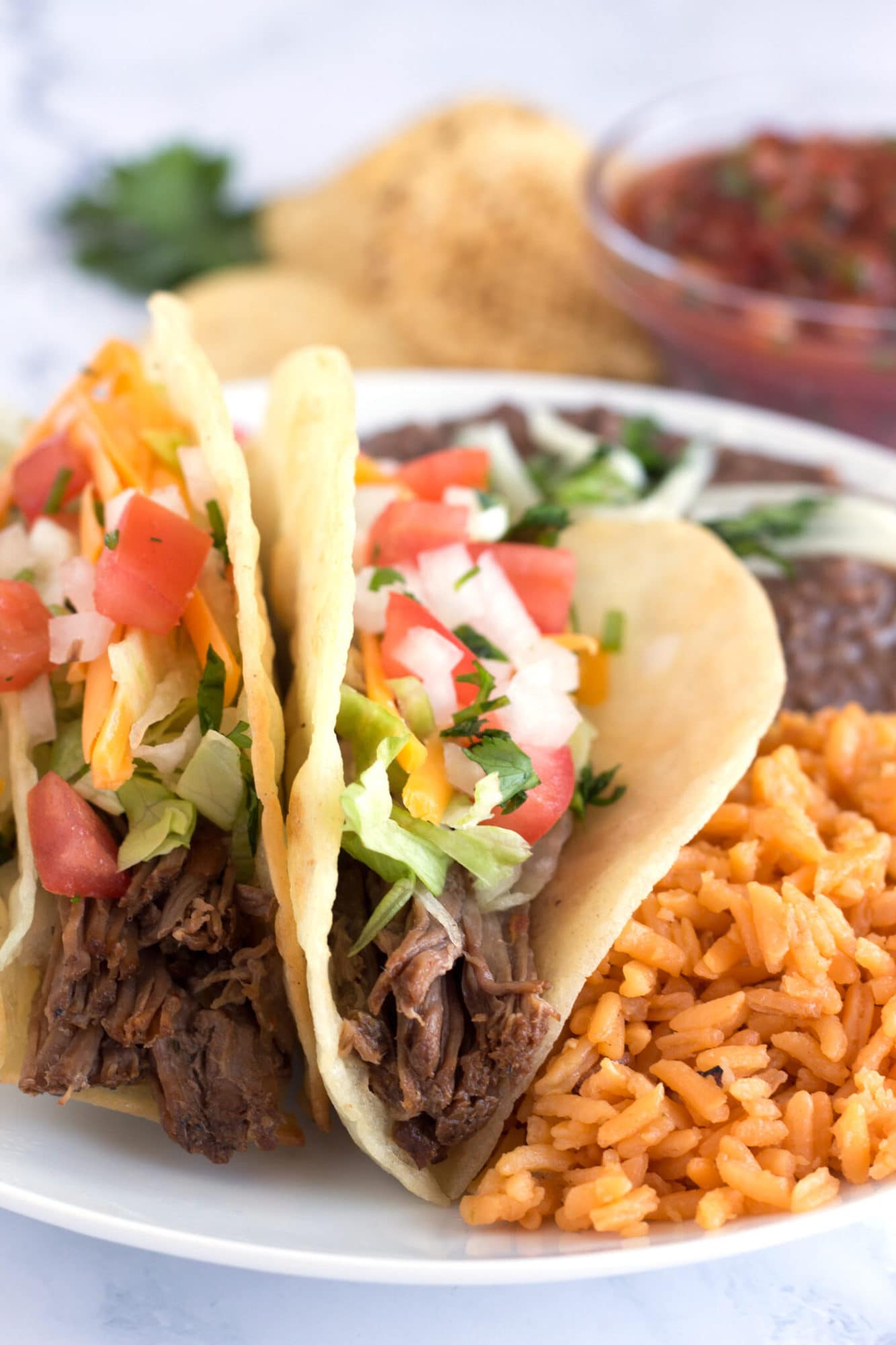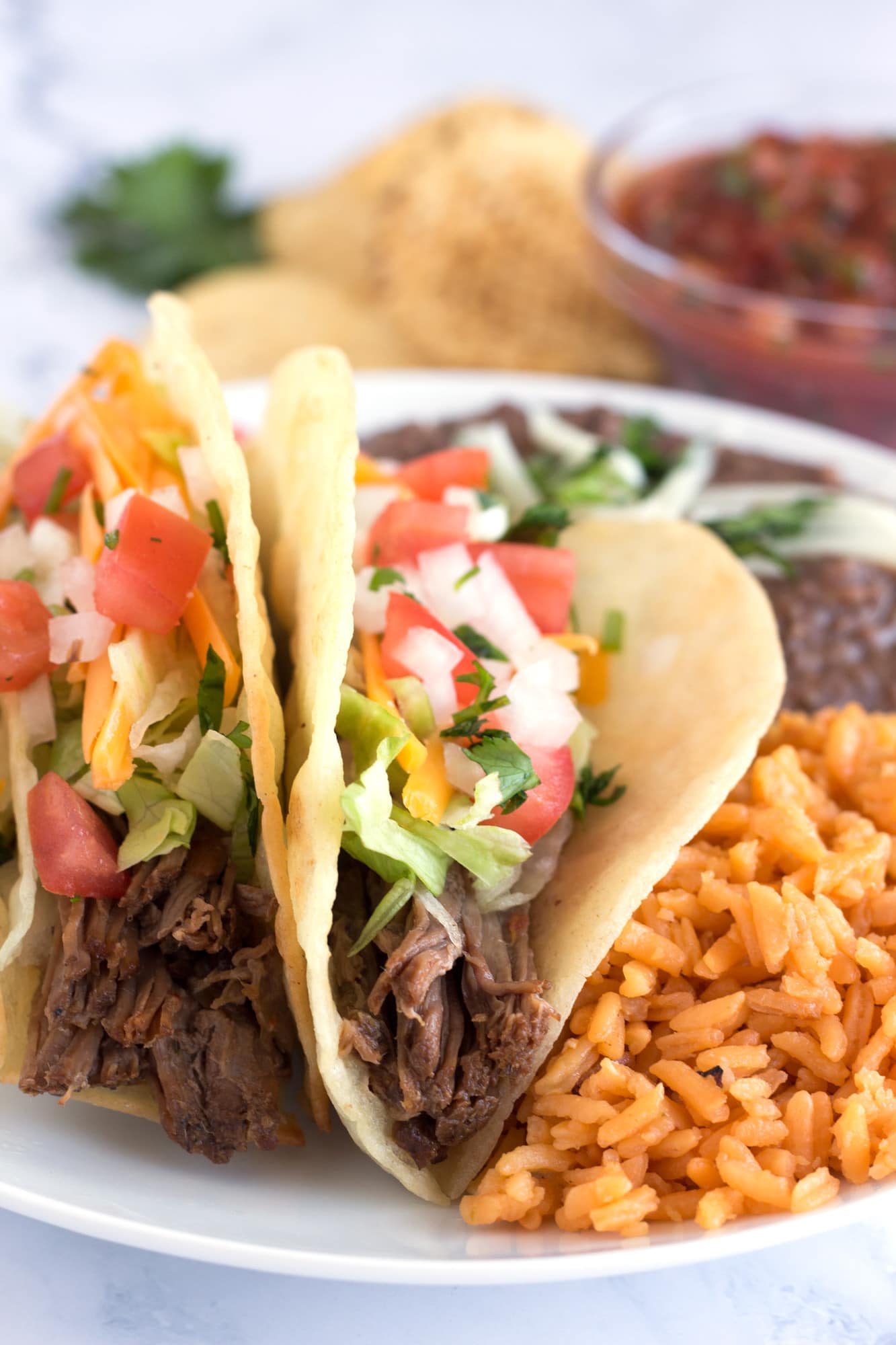 🏅Master Strategy
This post is broken down into three parts: 1) master strategy, 2) practical tips and tricks, 3) easy dinner ideas. So grab a piece of paper, a pen, a couple highlighters, and let's begin. (NOTE: this exact same thing can be done on a computer, tablet, or phone. Just follow the same steps.)
Please, please do not worry about this being pretty. It's supposed to be practical and useful. Planning will take a little bit longer than normal the first week, but after that it will be so much faster. Don't forget: you can homeschool and serve dinner!
Create a master list of your family's favorite dinner ideas. Place them in categories based on method or time (for example: slow cooker, 15 minute, weekend, etc.). Next, highlight each of the main courses based on main ingredient. Highlight chicken in purple, beef in red, meatless in orange, etc. Repeat until all the meals have been assigned a highlight.
Decide how much time you are willing and able to spend on dinner by looking at your calendar. Be realistic. Do your kids have activities certain nights that limit your ability to spend time cooking in the evening? Maybe give that day a slow cooker meal. Do you frequently feel like you are cramming too much in on Wednesdays? Maybe you need a 15 minute hands-on sheet pan dinner those nights. Or maybe you have ground beef in the freezer that needs used on a night when you have 30 minutes to cook dinner, so you look in the category of 30 minute meals and look for one that uses ground beef. I like to call this the plop and go method. Maybe the name could use a little refining. 😉
Record your meal plan on paper, using an app, etc. Once it is written down you can refer to it throughout the week. No more thinking.
Make a grocery list of the items you need to accomplish your plan. My favorite way is to add the items to my grocery cart and pick them up when I am ready. It saves me so much time. But you do what works best for you.
If this sounds good but you need a week to make it happen, sign up for our newsletter below👇🏻 and we will send you a free week-long menu plan.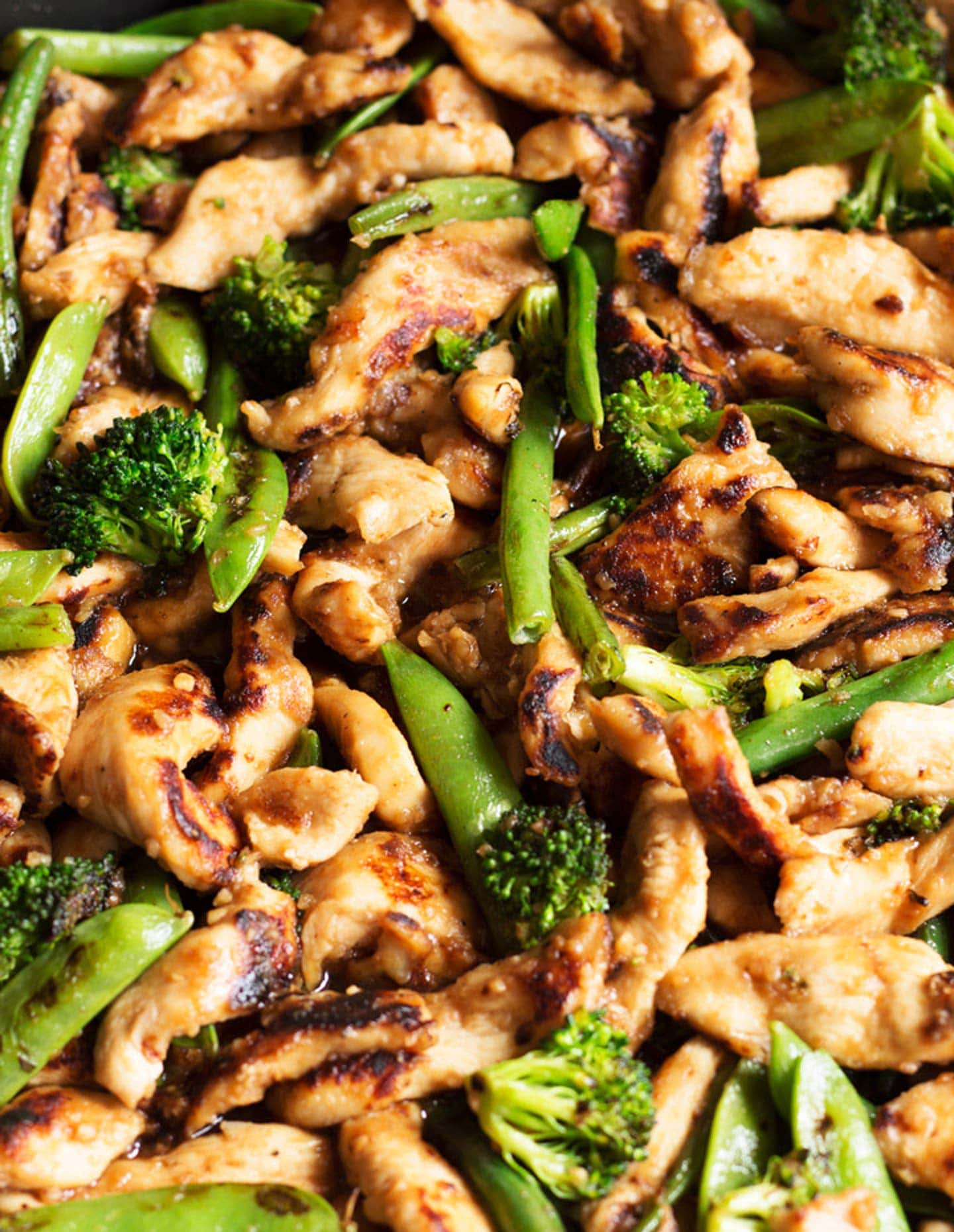 🥘 Practical Tips & Tricks
Additional Strategies
Now that you have the basic steps down you can layer in additional strategies depending on your season of life. These will work with the master strategy above. Here are some of the ideas I used over the years.
Repeatable menu plan: Following the same procedure as above, but make a 3- week menu plan and repeat. This method is perfect for seasonal cooking. When the season changes make a new menu plan and repeat.
Once a Month cooking: This refers to blocking off a whole day once a month to prep and freeze enough meals for the whole month. This has worked on and off in different seasons of my life. Sometimes there isn't a whole day to devote to preparing meals. Sometimes I devote half a day instead and just prep as many meals as possible. My favorite cookbooks for this are Don't Panic: Dinner's In the Freezer and Don't Panic: More Dinner's in the Freezer.
Batch cooking: Make double (or triple) of a recipe and use one now and freeze the rest for a later date.
Freeze components: Marinades, or sauces, or sides like potatoes or rice. This takes those extra steps out of your cooking later on.
Meal Prep: Take a couple hours and prep all the ingredients for the week. This isn't about cooking all the ingredients but getting everything to the point that dinner can be made quickly with minimal hands-on time.
Leftovers: Cook one day and eat leftovers the next. We usually ate leftovers for lunch so this is a strategy that I rarely used. However, I know a couple families who have always used this strategy and love it.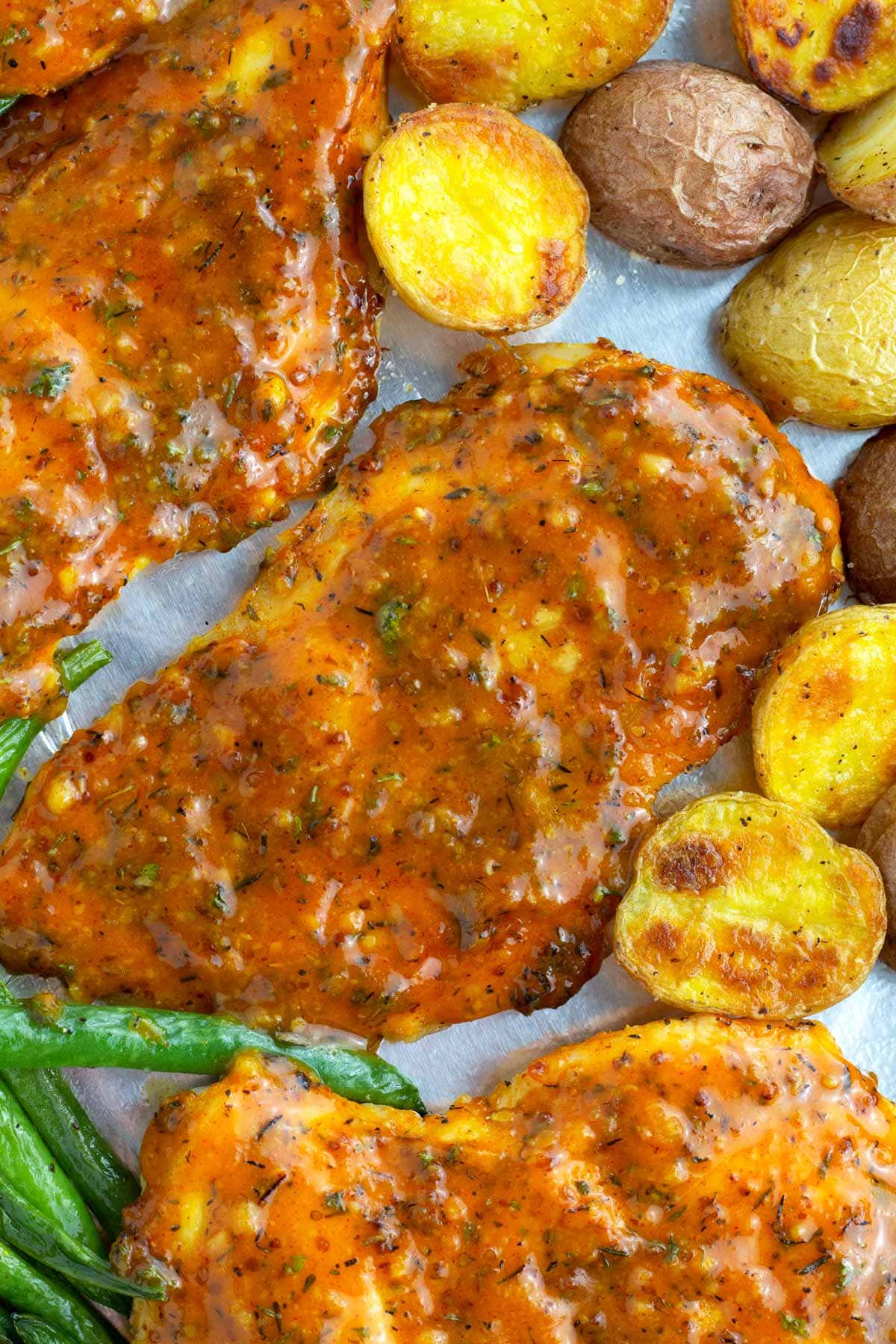 Tips & Tricks
Set a timer on your phone for a time everyday to prep dinner. Maybe it's the night before while everyone else is cleaning up dinner. Or during breakfast or lunch each day. I encourage you to find a time you are already in the kitchen. My motto here is work smarter not harder. While making sandwiches at lunchtime, have rice cooking for dinner. While the kids finish up breakfast, toss everything in the crockpot. Those baby steps will equal a much smoother dinnertime.
Find at least one night out of the week where you don't cook. Assign it to someone else, have leftovers, everyone makes their own sandwich night, or eat out.
Get your kids involved. Not only will it will help them learn life skills, and give them a boost of confidence, but it will eventually work you out of a job. One of my sons has mastered hamburgers on the grill. Not only does it mean I don't have to cook dinner on hamburger night, but he gets the satisfaction of hearing the family rave about his burgers. Win! Win!
This is probably my biggest tip: decide that dinner isn't over until the kitchen has been returned to its original self. In our house that means all the dishes are cleaned and put away, counters and table wiped down, floor swept, and garbage out. Oh, what a joy! Plus, nothing will help keep the next day on track like starting with all the dishes done and a kitchen that is ready to be worked in.
Build in margin. There are days where the best laid plans will not work. Come up with a few emergency meals to keep on hand. Or grab a couple extra boxes of cereal and label them "dinner". 😉
Ask your spouse to split or even take on the responsibility for making dinner. My husband is an amazing man but dinner is never going to be his contribution to the family. However, I know several homeschool families that operate this way with success. Again, the goal is to figure out what works for your family.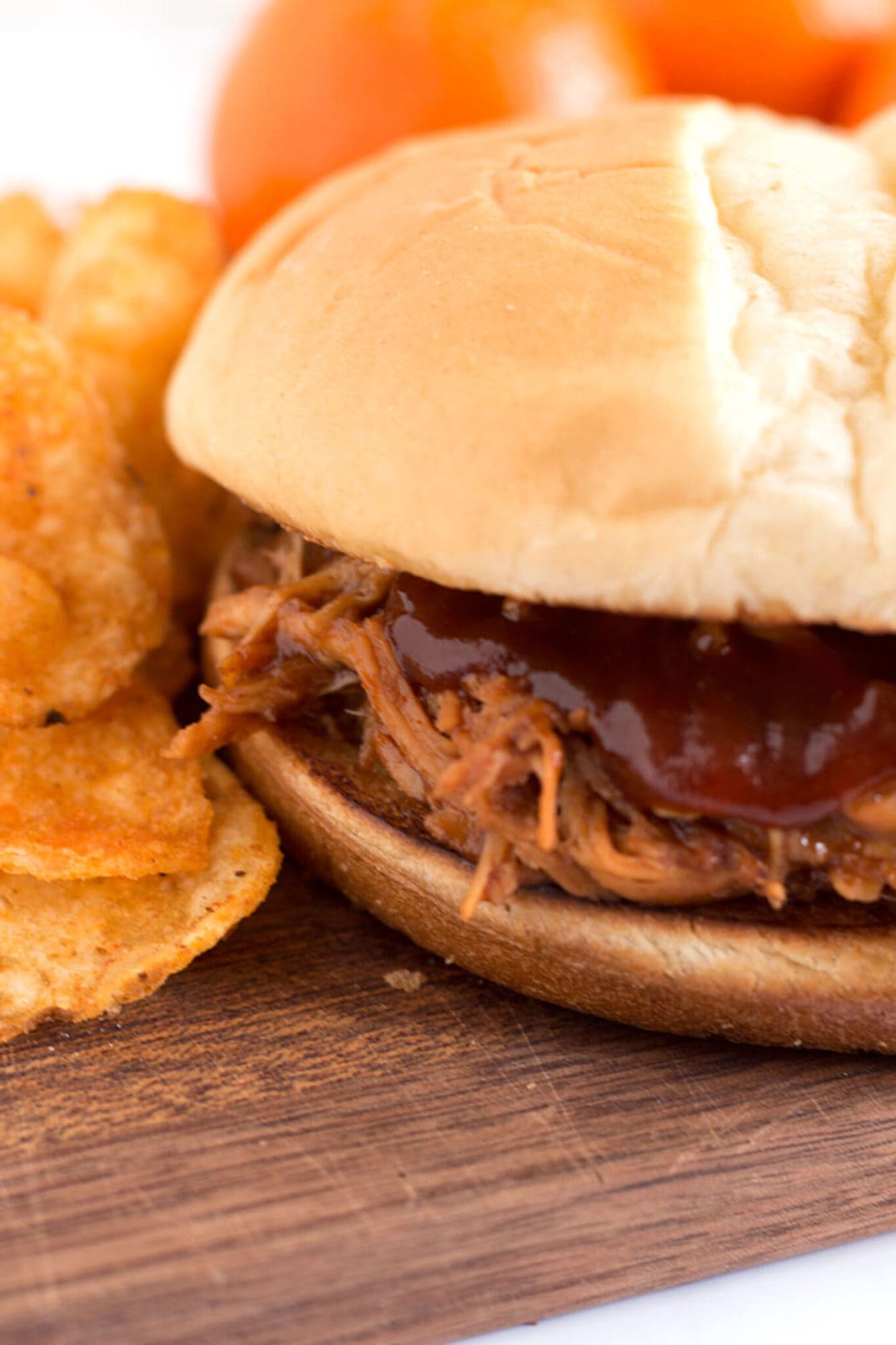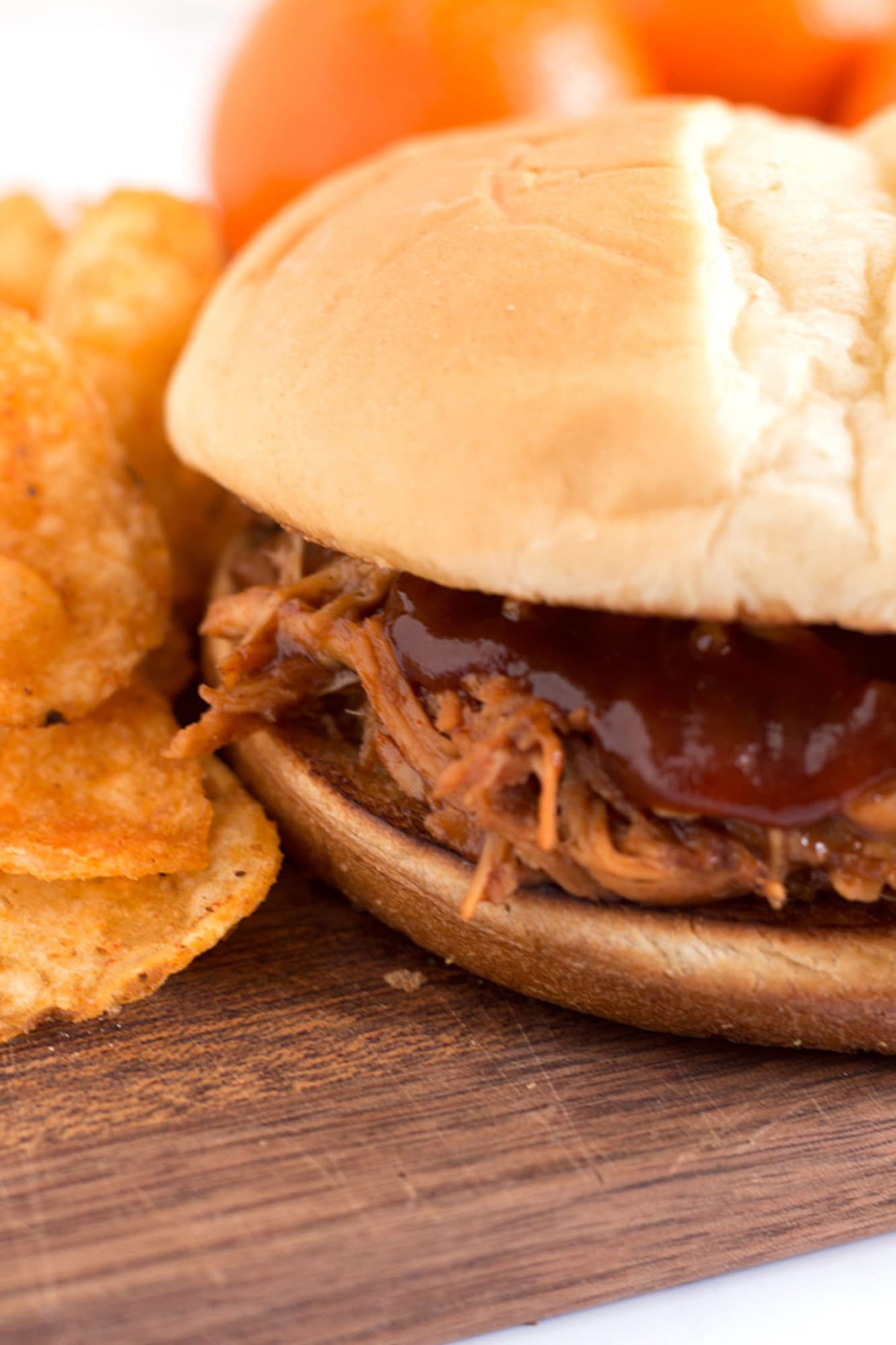 🍽 10 Dinner Ideas
Quick & easy
Quick and Easy is the name of the game with these dinners. 25 Minute Lemon Broccoli is a winner all year. Honey Lime chicken thaws quickly for use in tacos, burritos, enchilada, or quesadillas whenever you need. These craveable Chicken Tinga Tacos can be on the dinner table in 20 minutes.
Freezer-friendly sides
Having sides frozen and ready makes cooking dinner much faster. All you have to do is worry about the main dish and maybe a fresh salad. Rice is always a great side to freeze because it comes out just as good as fresh. Check out this post on how to freeze and reheat rice, then try these recipes.
Freezer packets
Packets of marinated or seasoned meat waiting in the freezer are my go to all year long answer to the question, "What's for dinner?". Sweet & Zesty is a 3 ingredient wonder. Grilled Honey Chicken (un)Kabobs are a fuss free way to do kabobs. Pork Tenderloin cooks so fast on the stovetop or in the Instant Pot.
Ready to bake
Crispy Chicken Parmesan cutlets in the freezer, ready to heat, is a dream come true. Another long time family favorite is the Baked Mac and Cheese - a freezer item we can't live without.
Double (or triple) and freeze
Making large batches of this Chicken Tortilla Soup or this White Chicken Chili doesn't take any longer than making a single batch. Store in the freezer for the days you forget to pull out dinner or life goes crazy and you need something to heat and eat.
📋 Free week-long meal plan
Want a meal plan for this next week? It includes a PDF containing a sheet pan dinner, a slow cooker meal, a one pot pasta, and a weekend taco feast. If this week you want to homeschool and still cook dinner while you work on the master plan, sign up below👇🏻.
👋 Connect with us!
Please feel free to ask any questions in the comments below. I am so happy to use my years of cooking dinner after a long day of homeschool to help in any way that I can. We'd also love to connect with you on Facebook, Instagram, or Pinterest. Tag @borrowedbites or hashtag #borrowedbites to show us your food! To get our new recipes straight to your email, subscribe to our newsletter.