Welcome to Borrowed Bites!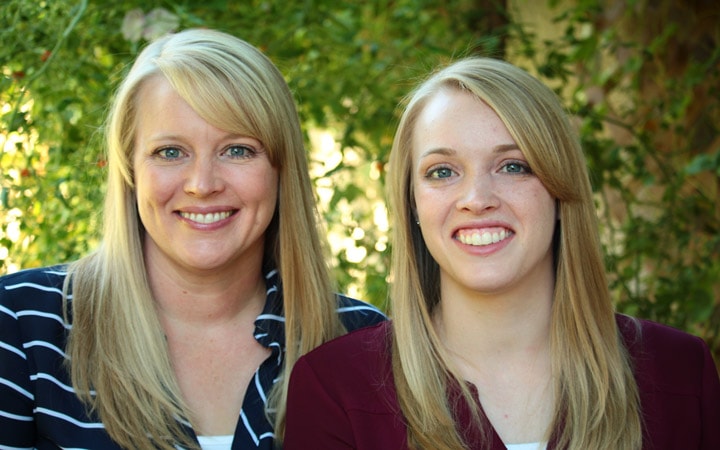 We're so excited you found this little corner of the internet. Something you will discover about us is our slight obsession with cooking for our family and friends. Our favorite pastime is scouring old recipe cards, cookbooks, magazines, and blogs for recipes and then comparing them to each other. Ultimately, we borrow a bit from this and a bit from that, adding a cooking technique that we have learned along the way, and create something of our own. Now we have a recipe binder full of favorites to repeat!
We've spent many a Saturday soaking in recipes and techniques from shows like America's Test Kitchen, The Barefoot Contessa, Good Eats (yes, our obsession started way back then!), and later Pioneer Woman. Our weekly library haul often included enough cookbooks and magazines to last us the year (don't judge…. it was the mid 2000s).
Food + Family = Our Happy Place
Because we believe that relationships are nurtured where food is served, we make the most of both quick family dinners and extended family affairs. On busy weeknights we thrive on meals that are as nutritious as they are quick and easy. The weekends are reserved for the family favorites that need a little more time and attention.
Our favorite tradition is Family Football Sunday where we serve our extended family of 20+ on Sundays after church. We also love parties and seem to regularly host birthdays, showers, graduations, and other special occasions. Choosing a menu is the ultimate fun! So many recipes...so little time.
We hope your family finds some favorite bites to borrow from what we love!
Fun Facts About Us
Fun facts about Danielle:
99 out of 100 times I will choose chocolate as my birthday dessert. Top contenders are this chocolate bundt cake and these insane chocolate peanut butter cupcakes.
I'm a sucker for cheesy British crime shows.
Talk about cheese... I am married to my high school sweetheart, and he really is my best friend.
I had twins when I was 18 and child number 5 right after I turned 24. Yep, it can happen.
I live in the American Southwest. In this part of the world Mexican food is everywhere. I am so blessed.
My hair is naturally blonde. (Yes. I've heard all the jokes. Mainly from my husband). Nothing artificial going on here.
In June of 2019, I graduated my fifth child from high school (homeschooled). Now, instead of picking out curriculum, writing lesson plans, or discussing literary classics, I have started this blog. So much for retirement!
What do I have in common with the eating style of a toddler? We both need bibs.
I love hammocks. Funny story: I fell out of one. No, for real. My husband hung it near a lake between two trees. We soon found out that one of those trees was dead.
The verse I'm loving right now: Romans 5:8 "But God demonstrates his own love for us in this: while we were still sinners, Christ died for us."**
Fun facts about Misty:
My high school culinary course consisted of just me, the kitchen, and Martha Stewart's Cooking School cookbook.
During my sophomore year of college, I studied abroad in San Sebastián, Spain. Much to my parents' relief, I did not come home with "an Enrique" (the mythical man everyone assumed I would meet while away). But I did leave with an obsession for chocolate croissants and tortilla española.
I'm a strong believer that there is never a bad time for ice cream. I have an insatiable craving for mocha almond fudge, butter pecan, or my favorite homemade chocolate.
Why just have cheesecake... or cake... When you can have cheesecake cake?
My preferred bedtime is 8:00 p.m. Yes, I am old at 25.
My biggest cooking fail was as a child when I made salt cookies instead of sugar cookies. My poor, unsuspecting victims...
Besides cooking, my go-to stress relievers are hiking and playing piano.
I used to make fun of hockey fans. Then the Golden Knights were born. Go Knights Go!
Despite the fact that I stole a stuffed animal from a bookstore when I was 7, I am still teased as the "perfect child" of the family. It would seem my record was expunged.
One of my all time favorite verses is Lamentations 3:22-23, "The steadfast love of the Lord never ceases; his mercies never come to an end; they are new every morning; great is your faithfulness."**
**If you are curious about these verses or would like to hear more about our faith, we love to share! Feel free to email us anytime at [email protected]
Your turn!
Let's hear fun facts about you! You can contact us anytime by filling out the form below.
Don't want to miss a recipe? Sign up here to have the latest recipes delivered to your inbox.