Wondering what to eat with tzatziki sauce? This list of 20 ideas is full of creative ways to serve tzatziki in both classic and unexpectedly delicious ways. It's bright and tangy flavor is one of the BEST ways to take your food up a notch!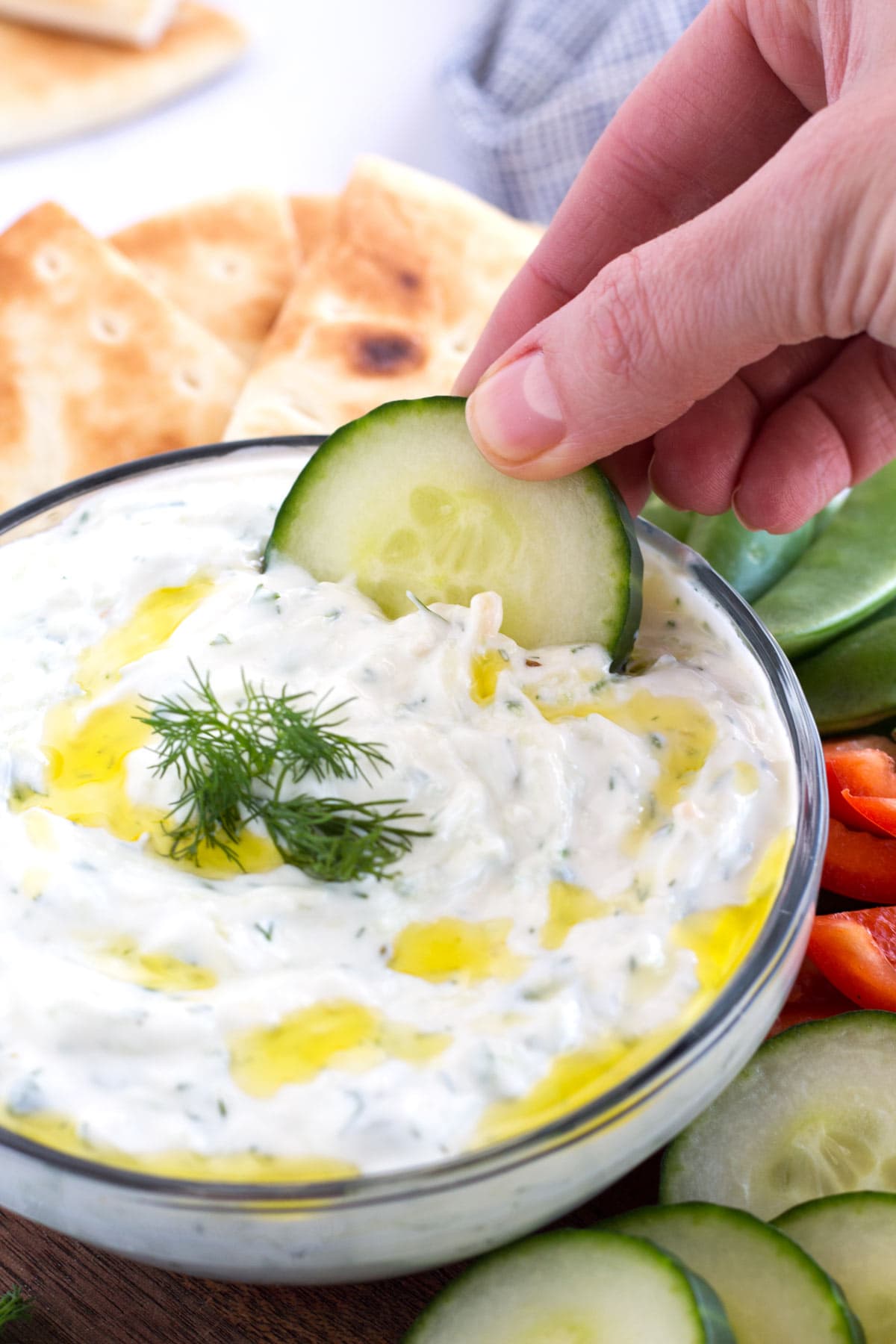 Skip to:
🍋 What is tzatziki sauce?
If you haven't had it before, tzatziki dip is SO good!
It's a yogurt sauce originating from Southeast Europe and the Middle East. It's made with thick yogurt (usually Greek yogurt), grated cucumber, minced garlic, olive oil, fresh lemon juice, red wine vinegar, fresh dill, and sometimes other fresh herbs like mint, parsley, or thyme. It tastes like a perfect creamy, herby lemon dip.
🥣 How to make it homemade
Our favorite easy tzatziki sauce recipe is super easy to make in only about 10 minutes. Just grate and drain your cucumbers, then combine everything together. Perfect as a healthy appetizer, side dish, or topping! Store in an airtight container for 4-7 days.
🏪 Where to buy it
If you don't want to make it at home, you can buy it from the store. I personally have liked the Trader Joe's tzatziki sauce and the Boar's Head brand (probably sold at your local grocery store).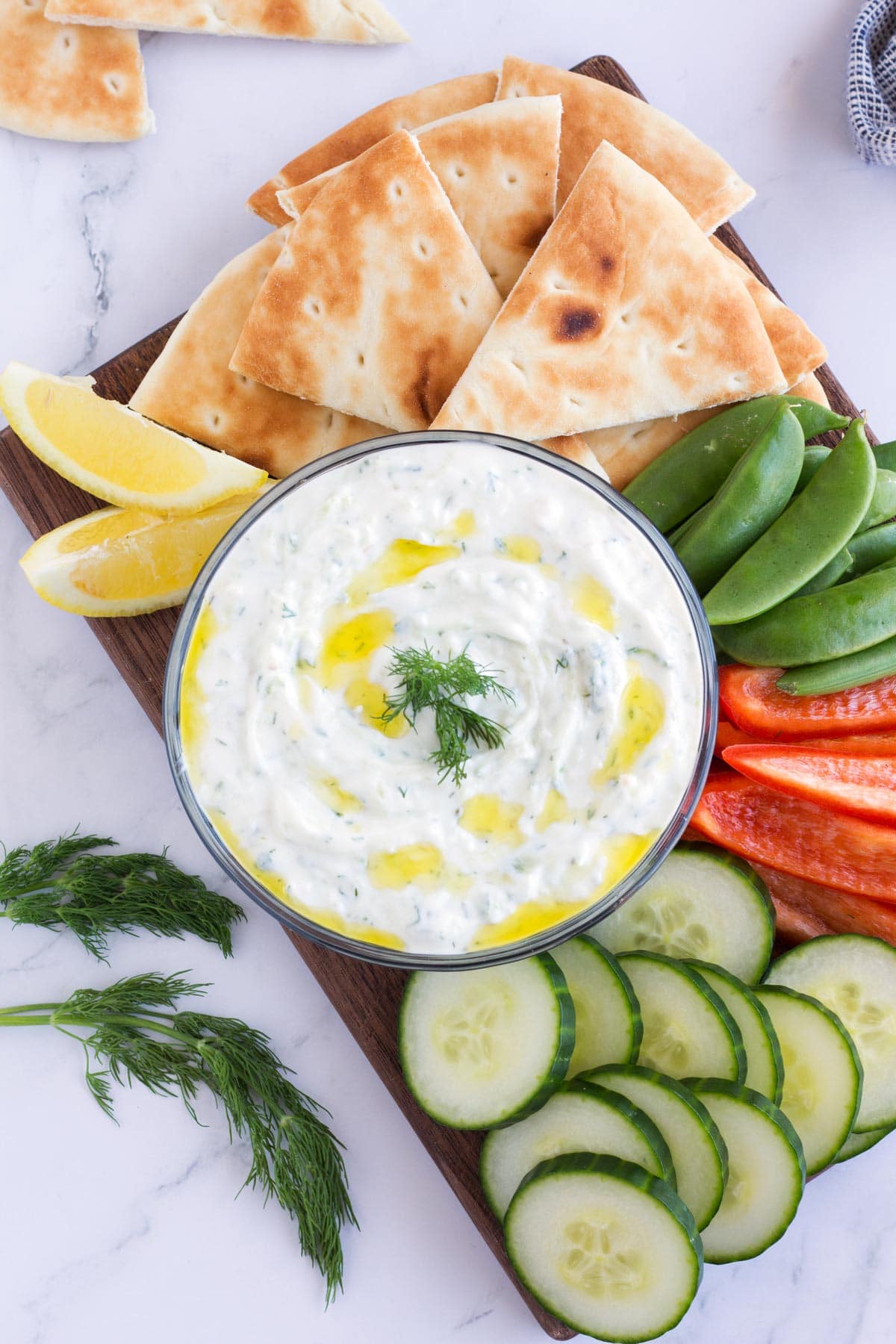 🥒 What to eat with tzatziki sauce
There are so many uses for homemade tzatziki sauce you can try next time you have some on hand. Without further ado, here's what to eat with tzatziki sauce:
Gyros - Gyros without tzatziki are like wings without buffalo sauce. They need each other. These Grilled Chicken Gyros are just the thing.
Souvlaki - Chicken souvlaki are just Greek skewers or kabobs with grilled chicken (or different kinds of meat) and veggies. It's a popular way to use tzatziki.
Meat - This is a super easy way to make practically any meat more flavorful, especially grilled meats. Add a drizzle over grilled chicken, roasted lamb, Greek meatballs, or pork tenderloin.
Pizza - Instead of dipping your cheesy pan pizza in ranch dressing, try tzatziki instead. Or better yet, make a Greek-style pizza with Mediterranean toppings and a drizzle of sauce on top.
Baked Potato - Replace the sour cream with tzatziki! It's so much more flavorful.
Wraps - Slather it on some pita bread or flatbread for mediterranean-inspired pita wraps.
Sandwiches - Way better than mayo! Pile your sandwich high with leftover grilled chicken, fresh veggies, and plenty of sauce.
Burgers - One of the best burgers of my life was piled high with juicy meat, roasted red peppers, spinach, feta cheese, and drippy tzatziki sauce. I highly recommend it.
Chicken Wings - Try Greek-inspired chicken wings with this as a dipping sauce. I've even heard it's a delicious dip for spicy buffalo wings.
Omelet - Add a drizzle to the top of your Greek omelet. It's a great way to add a flavorful twist on a breakfast classic.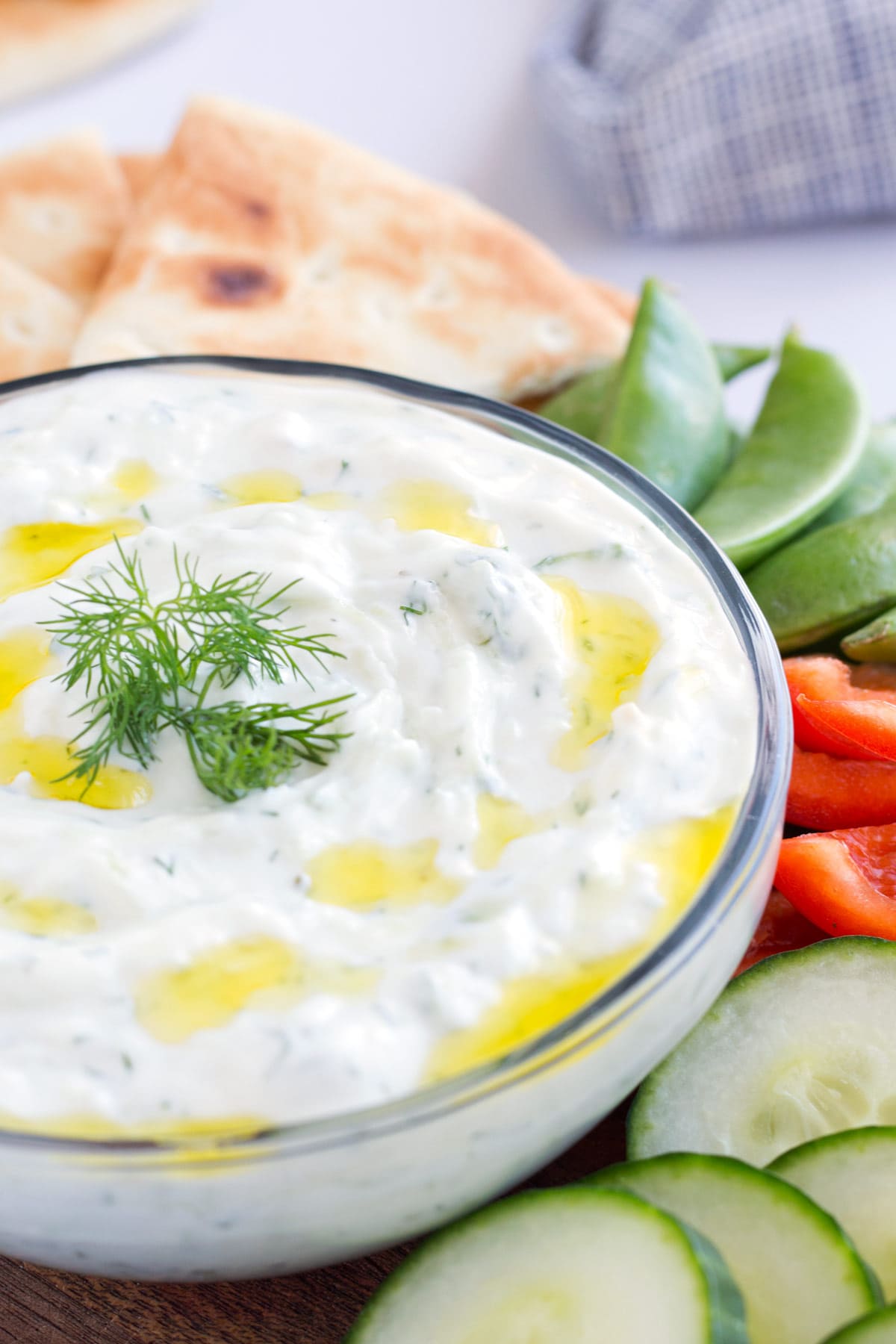 Dip: This is my favorite healthy dip or snack! Use it as a dip for fresh vegetables like cherry tomatoes, firm cucumbers (English cucumber or Persian cucumbers are good choices), carrots, or bell peppers. It's also great for pita chips or soft pita bread.
Salad Dressing - Loosen the tzatziki with a bit of milk to make a fresh and tangy dressing for Greek salad.
Fish - I'm not a big seafood eater, but I've heard that this makes a killer combo with fish. Think grilled or crusted fish, or even fish tacos (... a Greek taco? Yes, please.)
Loaded Greek Fries - Crispy french fries loaded with melty feta cheese, red onion, cherry tomatoes, and a drizzle of tangy tzatziki. YUM!
Greek Quinoa Bowls - Add a dollop to these Greek Quinoa Salad Bowls. The perfect healthy lunch or dinner.
As a Marinade - Did you know you can marinate meat in yogurt? Try using tzatziki for an extra flavorful marinade that slowly tenderizes your meat while you sit back and relax.
Potato Salad - Replace the mayo-based dressing with tzatziki for a healthier potato salad that's full of lemony, herby, summer vibes.
Pasta Salad - Just like the potato salad! Great for a summer picnic.
Chicken Salad Sandwiches - Combine the best of chicken salad sandwiches and Greek gyros by using the yogurt sauce instead of a mayo dressing.
Mashed Potatoes - Sub out the sour cream in your creamy mashed potatoes. This will give them a surprising flavor boost.
👋 Connect with us!
If you try any of these ideas, please leave a comment to let us know how it is! We'd also love to connect with you on Facebook, Instagram, or Pinterest. Tag @borrowedbites or hashtag #borrowedbites to show us your food!