Cast iron skillets are a trusted work horse in the kitchen, perfectly preparing everything from breakfast to dessert and lasting a lifetime while doing it. With tips and tricks, plus 15 recipes you can cook today, this post will have you mastering this classic pan in no time!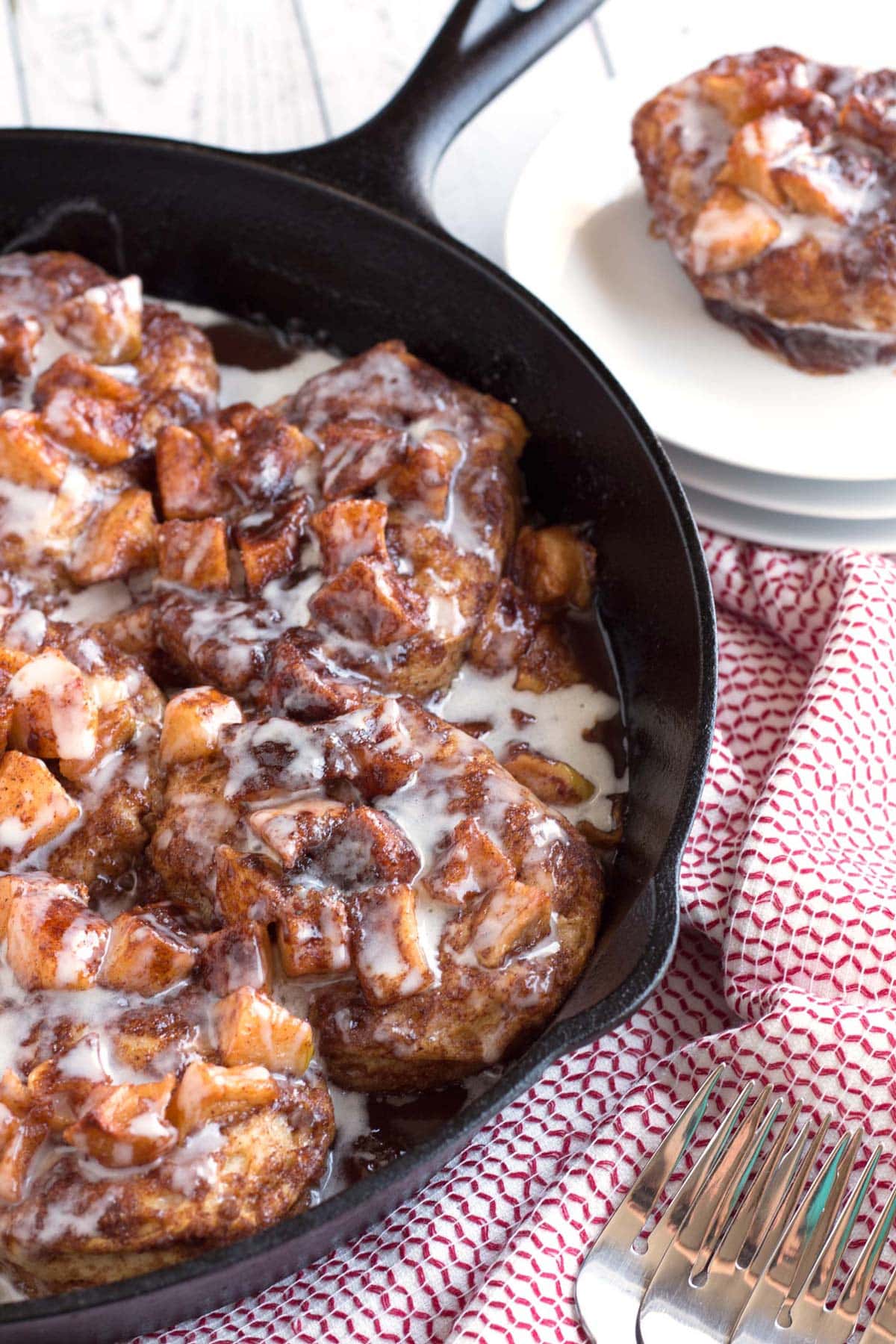 HI! My name is Danielle and I am a cast iron skillet hoarder. I've been told that is the first step. 😉 For real though. If you saw my pots and pans drawer you would find that I have more cast iron skillets than children. 😆 Hopefully by the end of this post you will feel confident in purchasing a great skillet and will use it regularly.
Skip to:
💵 Should I buy a cast iron skillet?
Without a doubt, the answer is, YES!!
Cast iron is pretty much indestructible. In some families cast iron gets passed down from generation to generation. Now that's my kind of pan.
These skillets are extremely versatile. Cast iron pans can be used to sear, saute, pan-fry, roast, braise, or bake. They cook everything from fajitas to apple pie biscuits with ease. Plus they can be used on the stovetop or in the oven.
They come in a variety of sizes and price points. Luckily, my favorite one is $10.
Because they are so inexpensive, they are perfect for having multiple on hand when hosting a crowd.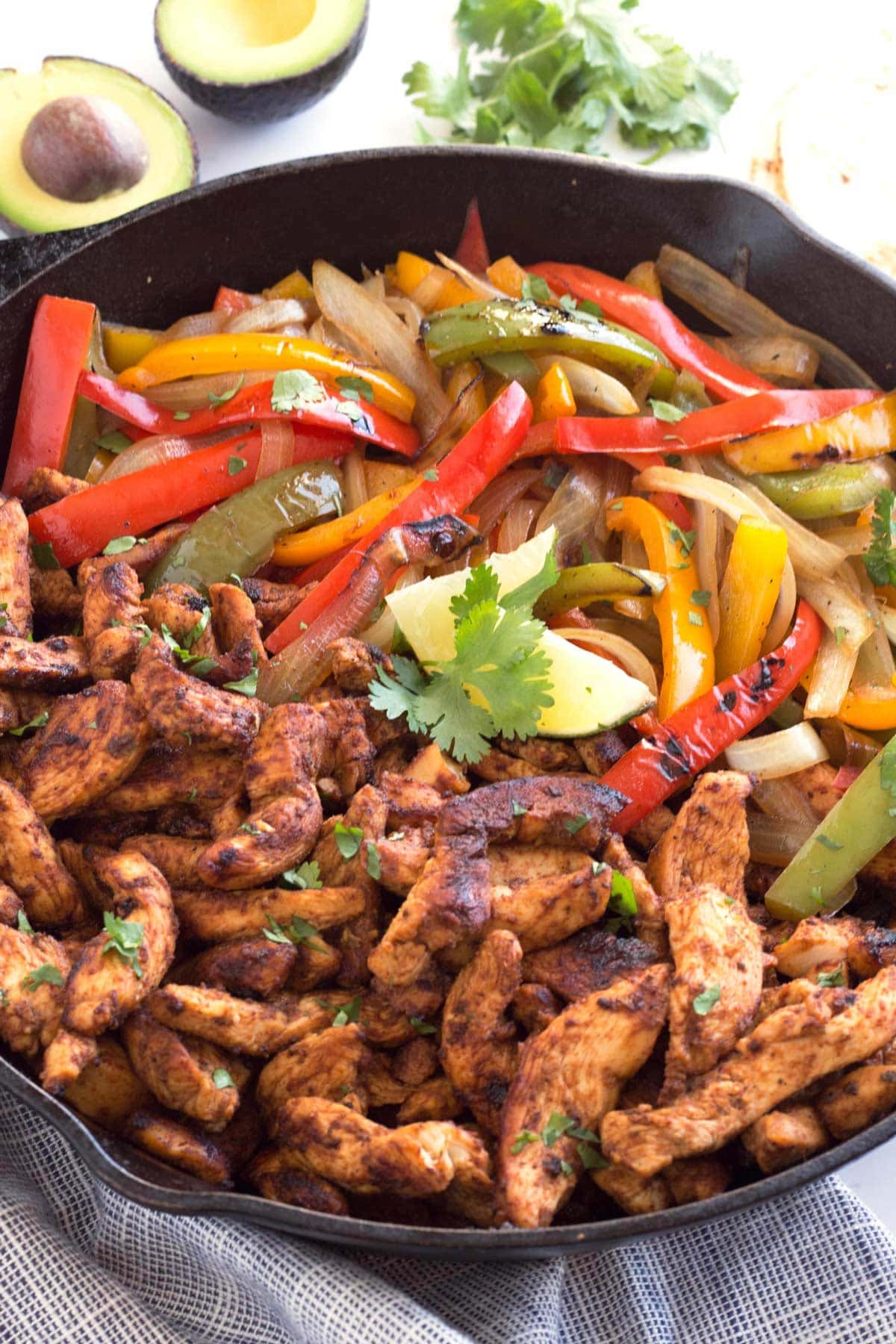 🏅Which skillet is best?
For our purposes we are going to talk about traditional cast iron skillets...ones without an enamel coating. Nothing fancy here. That's a conversation for another day. The answer to this question might depend on your situation, but having at least one 12-inch skillet is a must.
Size: Skillets come in a range of sizes. An 8 inch is really too small to be widely used. The 10 and 12 inch skillets are good for searing meat, frying eggs, or making cornbread. Most people will want one (or both🙋🏼‍♀️) of these sizes in their cupboard. My personal favorite is the 12-inch skillet. I find it to be the most versatile when serving a family.
Features: All skillets come with one long handle, but many also come with a second smaller handle. Since they are on the heavier side, I find it to be quite helpful to have a handle on each side of the skillet. Also, some come with a pour spout on either side. Again, so nice when you need to pour off excess liquid.
Cost: Entry level skillets run approximately $15-$25. The skillets I go back to again and again are Ozark Trail ones from Walmart. Nothing wrong with the Lodge brand, but these are half the price and, in my experience, work just as well. If you want to look at a higher end version, WIlliam-Sonoma sells this 12-inch skillet for $240. As long as you are willing to do an extra seasoning or two before cooking I would stick with the lower priced options.
🍳 How to season
There are two schools of thought when it comes to seasoning a cast iron skillet. Oven and stove top. Personally, I think either works, and when I need to season a skillet I use whichever method is easiest at the time. You can do this with a new skillet or on a skillet whose seasoned surface has worn down.
Before seasoning your skillet, wash it thoroughly and dry it completely. Then choose which high smoke point oil that you want to use. Vegetable oil or shortening are the most popular choices, but I have used canola as well. Oils with a low smoke point won't be able to handle the high heat required to season the skillet.
For the stovetop method, spread a thin layer of oil on the pan, and put it on the stove. Turn the burner on high and heat until the pan begins to smoke. Carefully, apply a second thin layer of oil and allow to cook for another few minutes. Turn off the burner and allow it to cool completely.
For the oven method, begin by laying a piece of tinfoil on an oven rack under the area where the skillet will be placed, and preheat the oven to 400º. Spread a thin layer of oil on the inside, making sure there is no excess dripping off, and place the pan upside down on the oven rack directly above the tinfoil. Bake for one hour. Turn off the oven and allow it to cool completely. If there is any excess oil wipe out with a paper towel.
It really is as easy as that. A cast iron skillet only needs to be reseasoned after the coating is getting thin.
🧽 How to clean
Cleaning your cast iron skillet will depend on what has been cooked in it. Often it can just be rinsed out with hot water. The one thing you should never do is place a cast iron pan in the dishwasher. If it has some stuck-on food then progress through these steps until you find the one that does the job.
Before we get to the steps let's answer the question, "Can I use dish soap in my cast iron?". The short answer is yes. However, each time you use soap it removes some of the seasoned surface. This isn't a problem as long as you are willing to immediately do a seasoning session with the skillet. Ideally, it's best to rinse (or wipe out) your skillet without resorting to the methods below. Having said that, I use my skillets all the time, and if I need to reseason them it just takes a few minutes and they are good to go.
Try a plastic food scraper. Lodge sells some, but my favorite are these ones by Pampered Chef. Not sure what it is, but they are amazing at removing stuck on bits!
This Scotch-Brite scrubber works wonders on cast iron. If this is used on the pan then a quick reseasoning will be required because the scrubber will take off the coating.
Take a couple tablespoons of salt and vigorously scrub with either a regular sponge, the scrubber mentioned above, or this cast iron scrubber. Keep in mind this will probably ruin a regular sponge.
If none of the above work, you can fill the pan with a couple inches of water and bring it to a simmer on the stovetop. Once it has simmered for an hour or so, (don't let the water run dry) pour the water out and carefully (the pan is HOT) try using one of the methods above.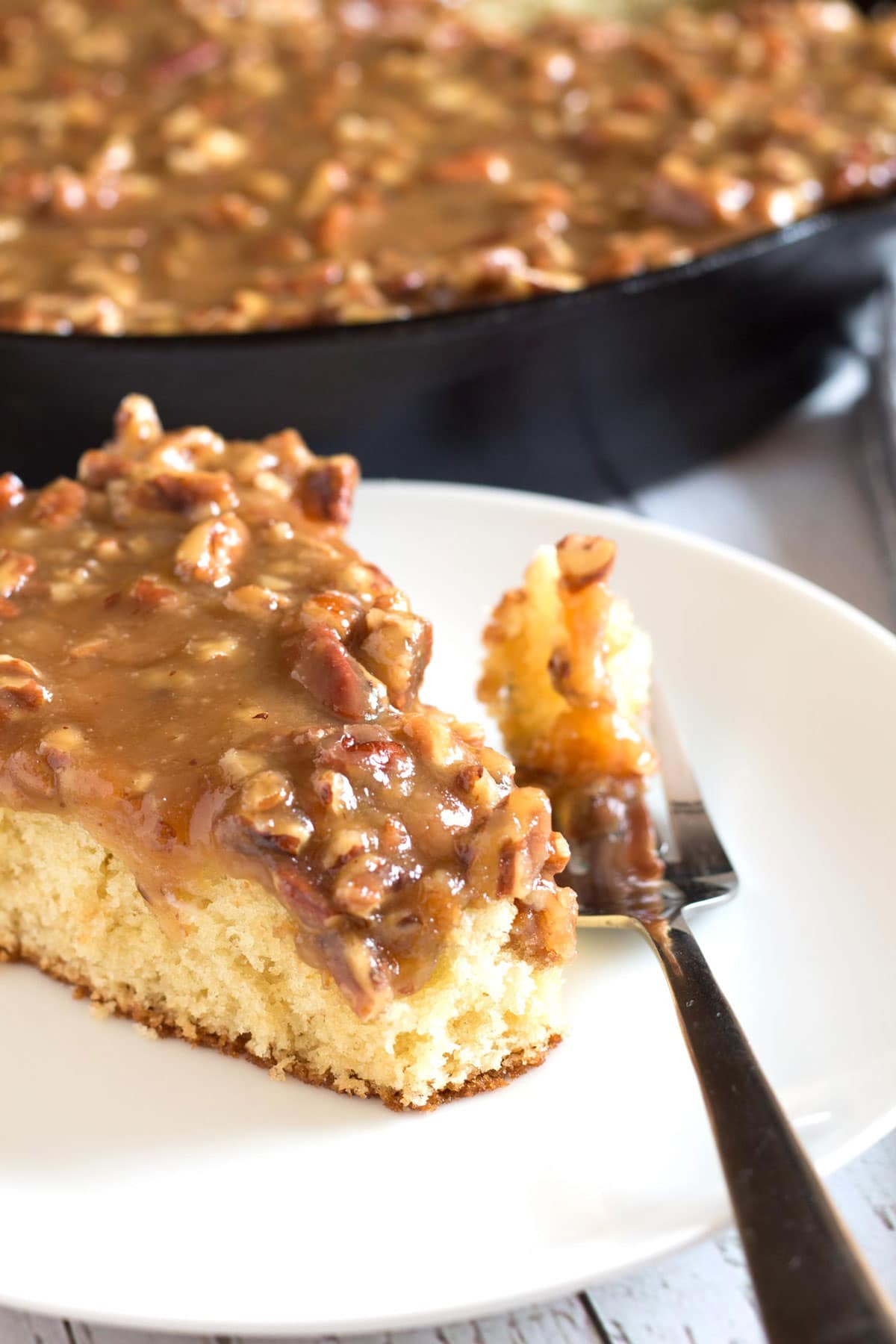 👨🏼‍🍳 Tips for using
Be sure to thoroughly dry the skillet each time it is washed. Otherwise it will begin to rust.
Use a lid from another set of pots to cover a grilled cheese, quesadilla, or pizza while cooking. It helps the cheese melt before the outside burns.
Use it to reheat pizza, chimichangas, and basically anything else with a crispy bottom. Start by heating the pan on stove until quite hot. While the skillet gets to temperature, reheat your food in the microwave until it is approximately 80% hot. Then add it to the hot skillet to crisp the bottom. If desired you can place a heat proof lid over the top of the skillet to help melt any additional cheese.
Invest in some silicone handle covers like these. So much easier to serve straight from the skillet when the hot handles are covered.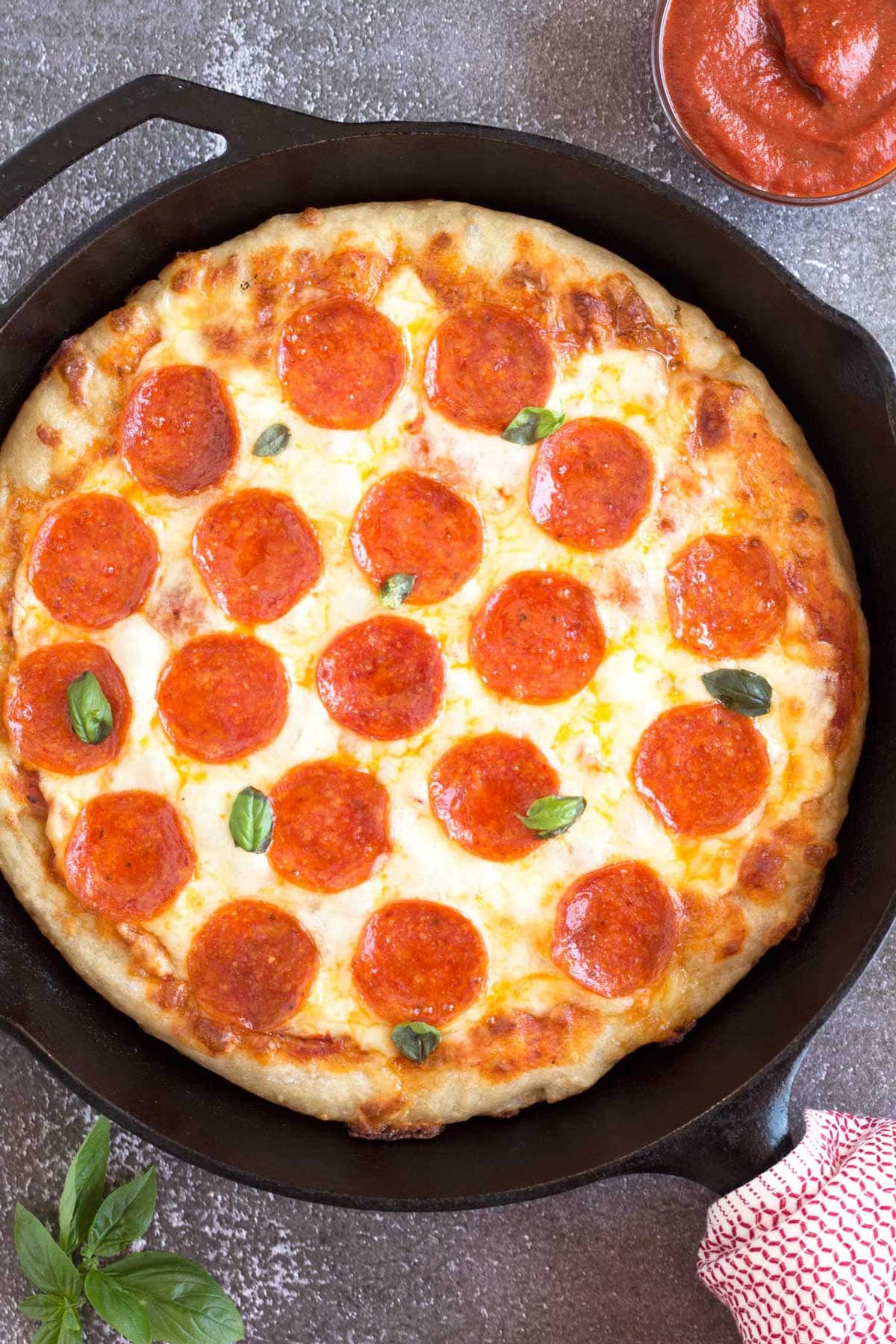 📖 Cast iron skillet recipes
Note: Most of these recipes are pictured in a cast iron skillet. However, there are a couple that are pictured in a 9x13 pan, but can be made in a 12-inch skillet instead.
Breakfast
Hash Browns: The heat retention in a cast iron skillet allows for any frozen, refrigerated, or dehydrated hash brown to have a nice crispy bottom. Just be sure to preheat it before adding in the potatoes.
Side Dish
Bread
Dinner
Dessert
👋🏻 Connect with us!
If you try this recipe, please leave a comment and star rating to let us know how it is! We'd also love to connect with you on Facebook, Instagram, or Pinterest. Tag @borrowedbites or hashtag #borrowedbites to show us your food!