All the tips and tricks you need to make a perfect Bundt cake. Plus the one Bundt pan every kitchen needs, and four simple but beautiful ways to decorate your cake! Time to bake!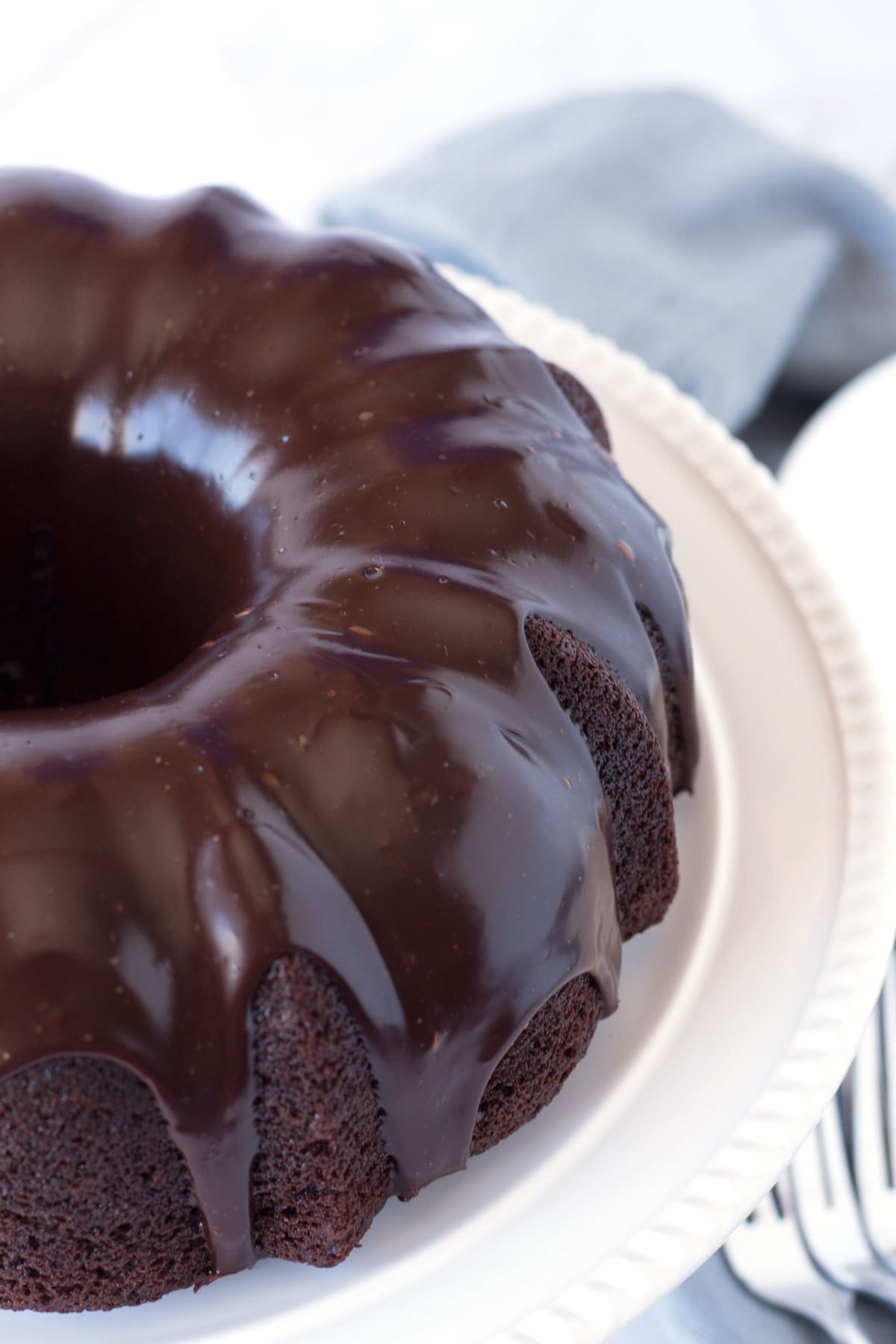 Skip to:
I am a self identified Bundt cake "nut". They are perfect for serving to a crowd, great for making ahead, and come in every flavor combination imaginable.
My all-time favorite Bundt cake is this Perfect Chocolate , but I will easily eat up this Hummingbird Carrot , this Pumpkin Chocolate Chip , or this White Chocolate Raspberry . Plus it's the perfect pan for Monkey Bread or turning frozen rolls into savory pull-apart bread. And we have added this festive Christmas Bundt Cake for a holiday favorite! If individual-sized cakes are what you are looking for, we also have these mini bundt cakes.
What is a Bundt cake?
A Bundt cake is not one specific recipe, but it's a cake that is defined by its shape. Originally a donut-style mold with various grooves and ridges, called a Bundt pan, was used to shape the cake into a circle. The traditional Bundt pan (affiliate) was made popular in the mid 1900's by Nordic Ware baking company. Now these pans come in many different shapes and sizes.
The main difference between a Bundt cake and a regular cake is their shape. Specifically, a Bundt cake is cake batter that has been baked in a round molded pan with a hole in the middle.
A pound cake is traditionally baked in a loaf pan. However, many pound cake recipes are adapted to fit into a Bundt pan because the shape is perfect for baking the moist and dense batter evenly.
How to choose the best Bundt pan?
Many different styles and sizes of Bundt cake pans are sold today. From mini Bundt cake pans (affiliate) to pans with holiday designs (affiliate), there is one for every occasion.
Material
If you are only going to own one Bundt pan, then the best one is the classic Nordic Ware 12 cup pan (affiliate) with handles that's made out of aluminum. It should have a light colored, nonstick coating on the inside. If possible stay away from the darker finishes as they can make the outer edge of the Bundt cake a bit overdone.
Size
Another thing to keep in mind when buying Bundt pans is how much batter they hold. Classic-size Bundt pans (affiliate) hold between 10-12 cups of batter while the half-sized bundt pans (affiliate) hold 5-6 cups. The standard Bundtlette pan (affiliate) holds 4.5 cups of batter between 6 little cakes, but there are other fun pans that fit a variety of batter amounts. For the smallest Bundt cakes go for the mini Bundt pan (affiliate) that holds 3 ¾ cups of batter between 12 molds. They are so cute!
How to use a Bundt pan?
Baking the perfect bundt cake in 5 simple steps.
Step 1: Grease the pan
The first, and most essential step, in baking the perfect Bundt pan is to properly grease or butter and flour the bundt pan, even if it is a non-stick pan. The foolproof way to grease a Bundt pan is with a baking spray containing non-stick spray and flour. Both Baker's Joy (affiliate) and Pam (affiliate) work equally well. Some people prefer to use a homemade cake release recipe that contains a mixture of grease and flour, but I find that to be an unnecessary extra step.
Whichever one you choose to use, be sure to grease every single section of the Bundt pan heavily. I like to spray it over the sink (to catch the overspray) and turn it in my hand so that I can get the outer edge of the pan as well as the inner tube section really well. Then give it an extra spray just for insurance. 😉
Step 2: Getting the batter right
The consistency of the batter for a bundt cake can vary from quite loose like this Chocolate Bundt to very thick like this White Chocolate Raspberry Bundt. The key is to make sure the batter fills up the pan between ⅔ and ¾ full. The number of cups will depend upon which size pan you are using.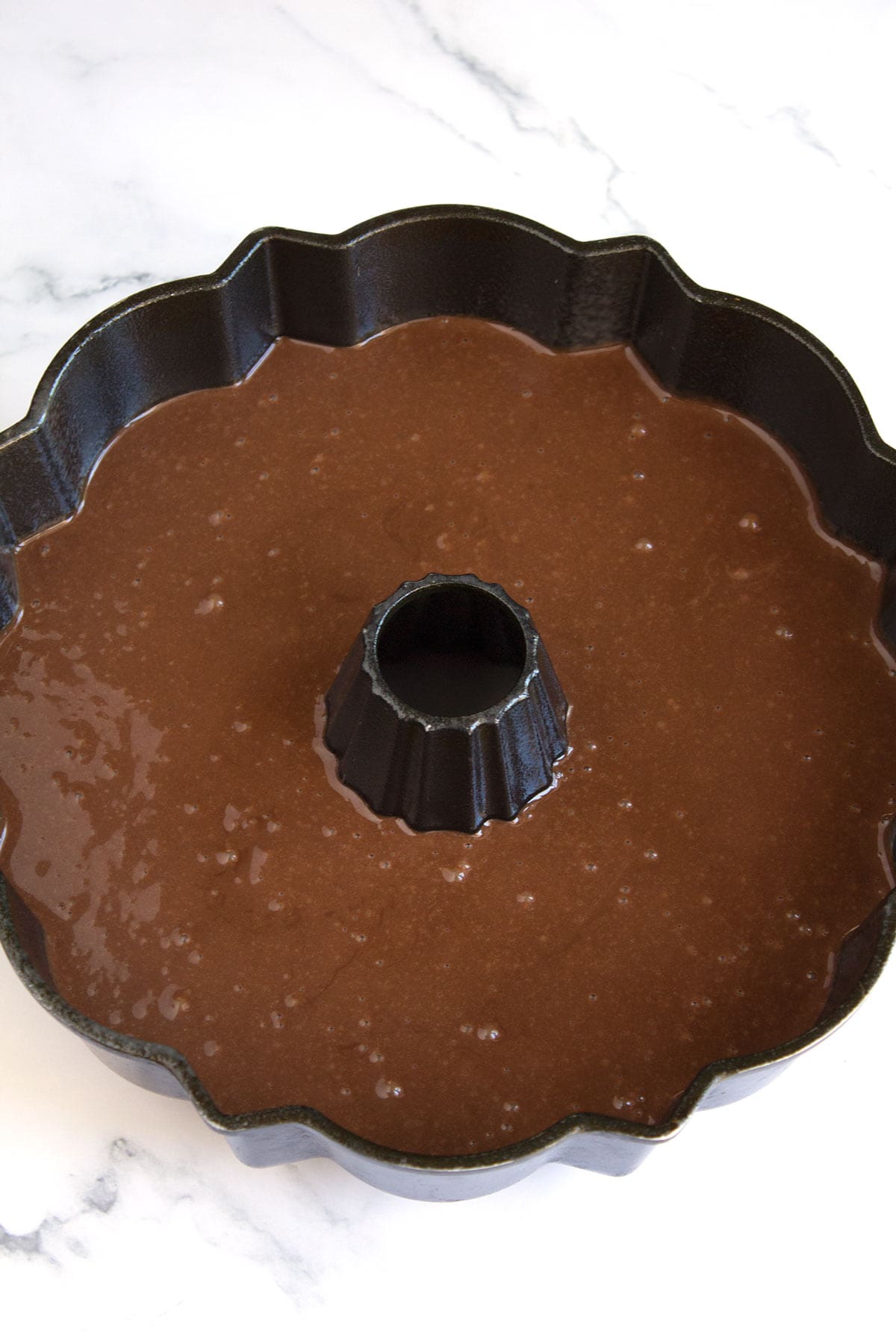 Step 3: Baking perfectly
The Bundt cake is done when a skewer or cake tester goes in the middle and comes out clean or with only a moist crumb or two attached. The cake batter should also be gently pulling away from the side of the pan.
Step 4: Removing
The Bundt cake should cool in the pan for 15-20 minutes before flipping. If you wait too long the cake can get stuck down in the pan.
To successfully flip the cake out of the pan, place a cooling rack over the top of the pan. Quickly flip both the cake pan and the cooling rack over so that the cake is now sitting on top of the cooling rack. If the pan was greased properly then the cake should just fall out, but if it doesn't come out on its own gently bang on the top of the bundt pan to help gravity pull it out of the pan.
If it still won't come out, use a plastic knife to gently check that the edges are not sticking to the pan. Gently insert the knife to help the cake release. Then flip it with the cooling rack as described above.
Step 5: Decorating a Bundt cake
Before decorating the cake, it must be completely cool. Once cool, the Bundt cake can be dusted with powdered sugar, glazed, iced, or frosted.
Dusting with powdered sugar is the easiest. To distribute the powdered sugar evenly, place a couple tablespoons of powdered sugar in a fine mesh strainer and gently shake back and forth over the top of the cake.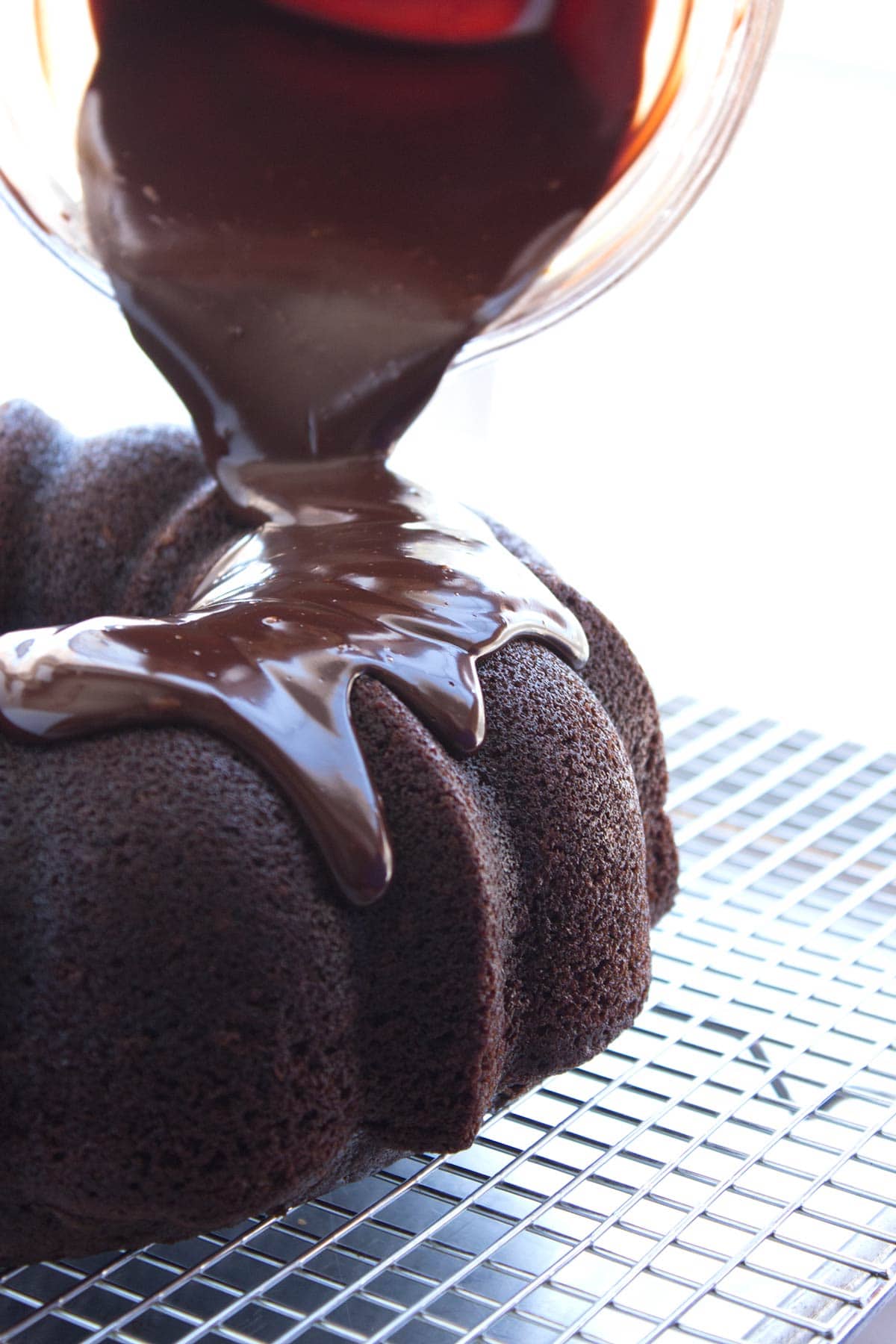 Applying a ganache, glaze, or icing is the same process. For an of these three options, place the cake on a cooling rack, then place the cooling rack over a cookie sheet or wax paper lined surface. Pour a thick layer of ganache or icing onto the top of the cake, allowing it to fall down both sides.
After you've gone around the whole cake, go back while it is still wet and add more in any spots that are bare or look odd. Lastly, pick up the cooling rack and tap it gently, but firmly, on the cookie sheet. This will help the ganache or icing fall evenly and smoothly on the cake.
If you choose to use an icing, it will be more translucent on the cake. As it sits the icing begins to disappear into the cake. It is delicious but a different look.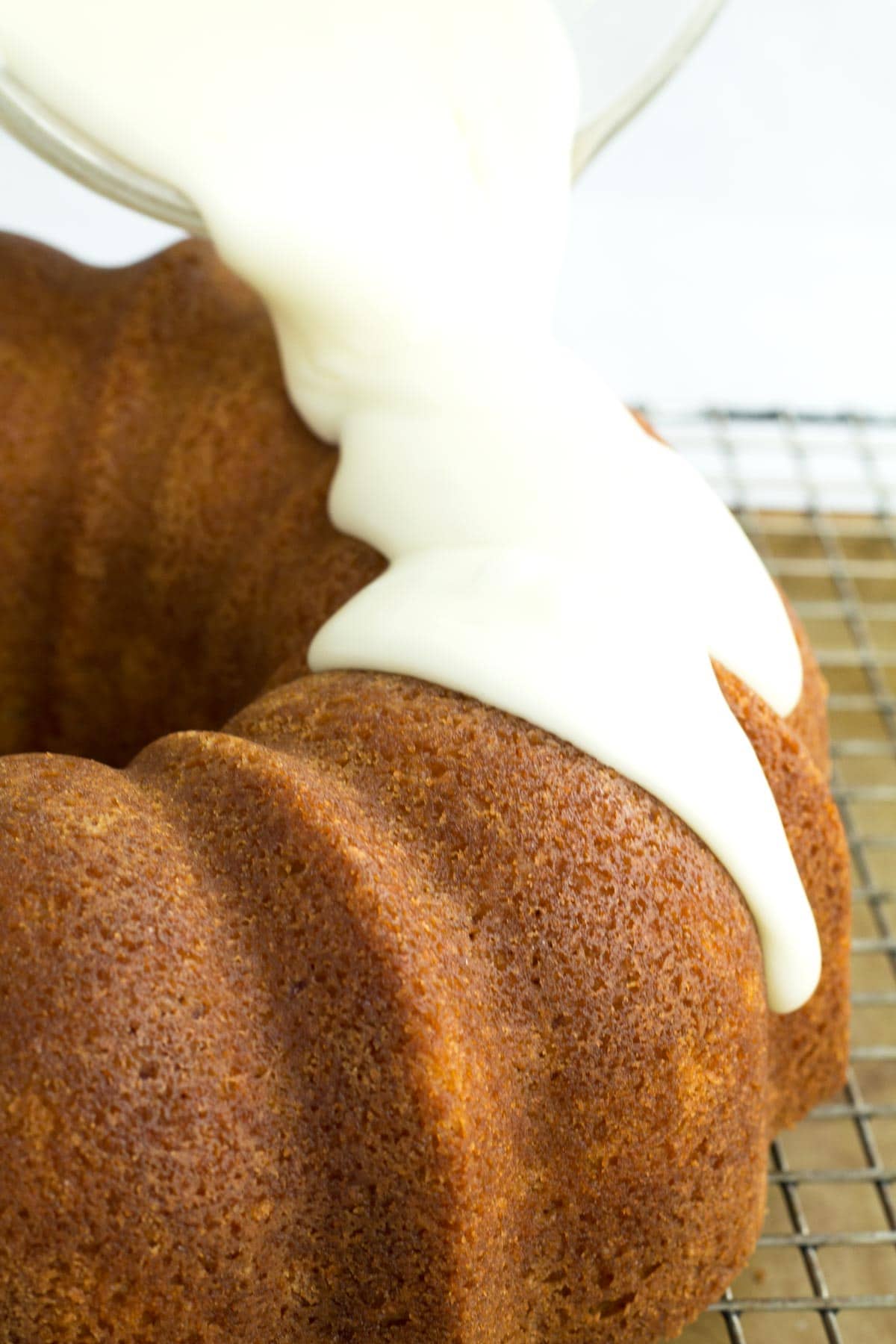 Frosting a Bundt cake can be a little tricky, but the nice thing is that they walk the line between elegant and rustic. There really is no way to get it wrong. For a more rustic effect try using the back of a spoon shown here with a cream cheese frosting. The back of the spoon gives the perfect movement to the frosting.
Or you can pipe frosting in any pattern that you desire. For the looped frosting technique below, start with either a piping bag and tip or a zip bag with the corner cut off. Then work your way back and forth across the cake allowing the frosting to form a loop on the outside edge.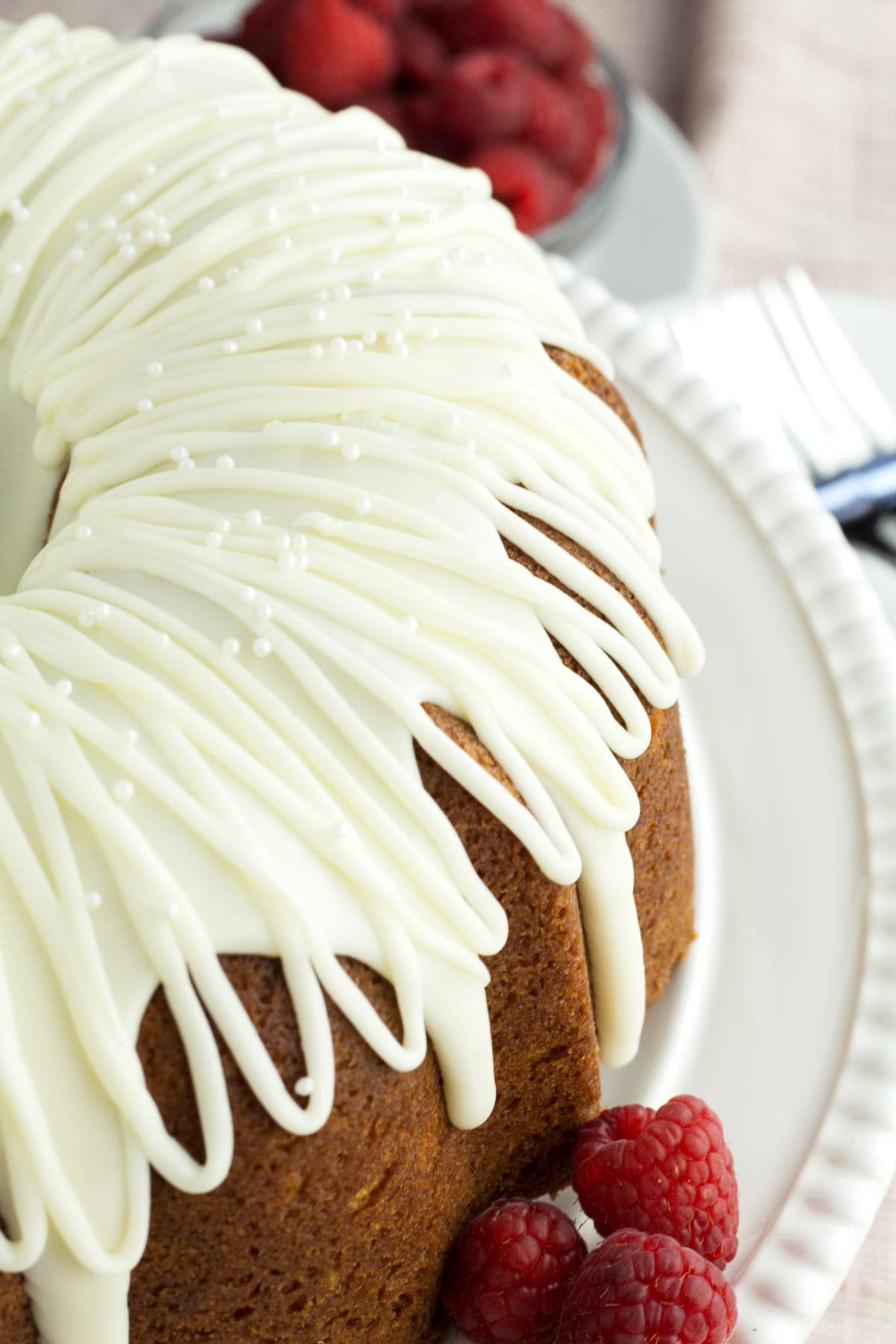 Transfer the decorated cake to a cake plate or serving platter. To help ensure that the cake makes it in one piece, I highly recommend this cake lifter (affiliate). It has been a lifesaver!
Hiding imperfections
The easiest way to hide imperfections is to use a thick frosting or ganache on the top. Then sprinkle chocolate chips or nuts on the top. The other option is to pipe frosting in a pattern that distracts from the imperfections. See the picture above.
How to freeze and thaw a Bundt cake
Cake becomes more moist after freezing, so making it ahead is a great option. To freeze the cake, allow it to cool fully and skip any decorating. Wrap the cake tightly in plastic wrap and then foil. Freeze for 1-3 months. Before serving, allow the cake to thaw at room temperature for 5-8 hours (keep it wrapped while thawing) or in the refrigerator for 24 hours. Once thawed, decorate the cake.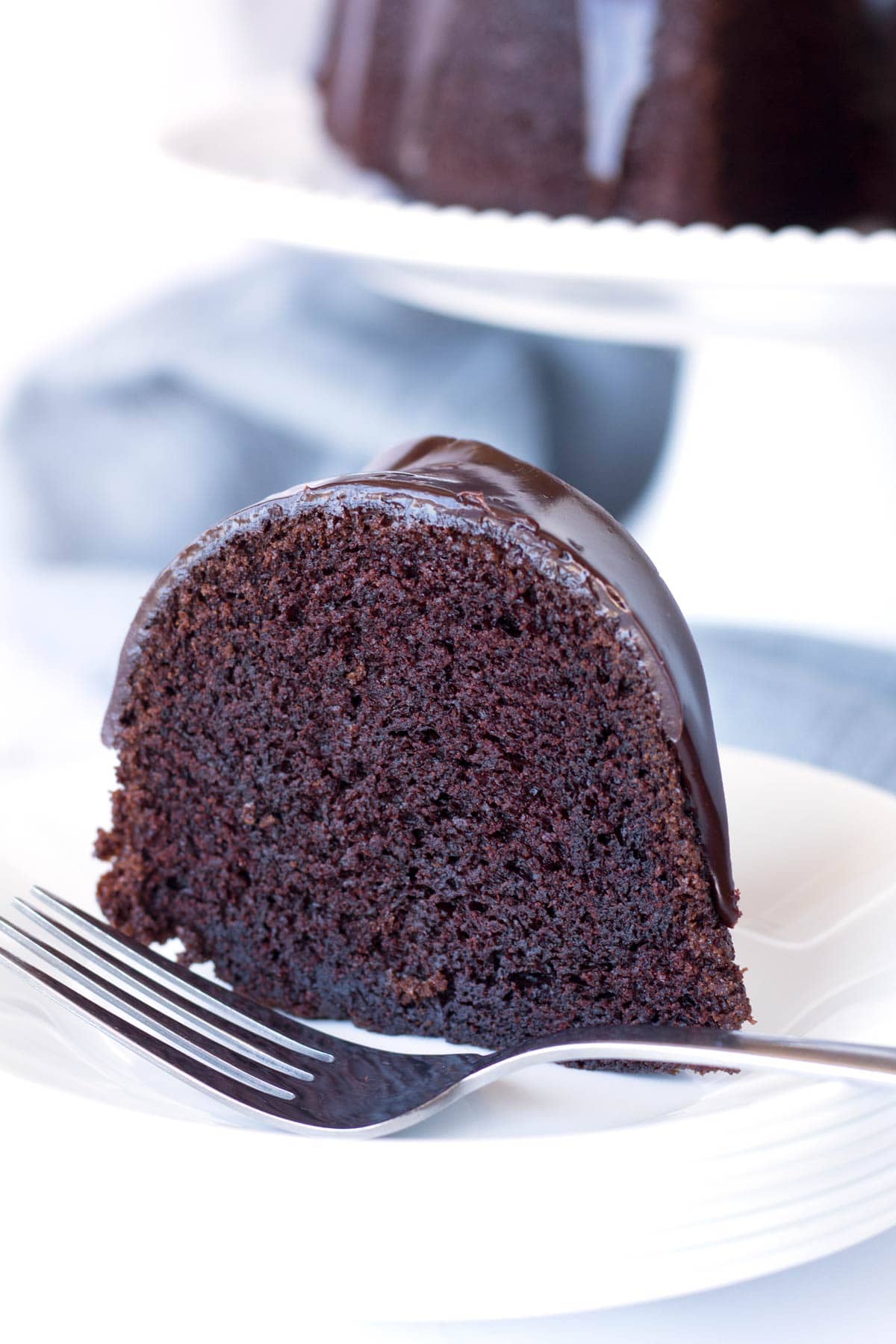 Can you make a regular cake in a Bundt pan?
Most regular cakes can be baked in a Bundt cake pan. However, the texture will be different, and it will take longer to bake. The most important thing is that the pan should be no more than ⅔ to ¾ full before baking.
Can box mixes be used in a Bundt pan?
A box cake mix can be baked in a Bundt cake pan, but if made in the 12 cup pan the cake will turn out a bit on the short side. Two boxes of cake mix will create a taller cake. Just be sure to only fill the cake pan until it is ⅔-¾ full. If there is any leftover batter use it to make cupcakes.
How many servings in a Bundt cake?
A traditional size Bundt cake will easily serve 14-16 people depending on how large the slices are. The half-size cakes will serve 6-8 while a Bundtlette will serve 1-2 people.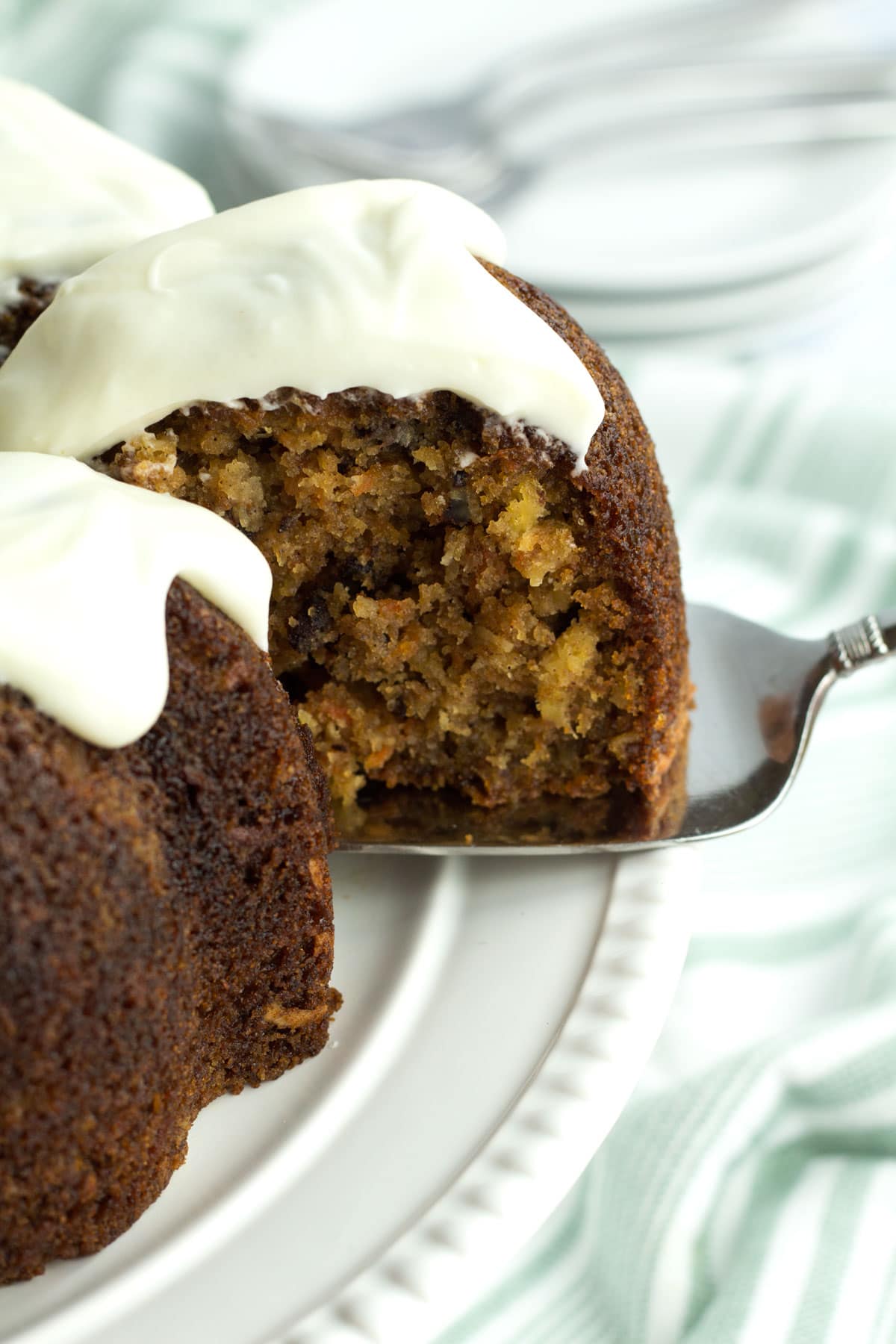 Bundt cake problems
What causes a Bundt cake to fall?
Incorrect oven temperature is one of the main culprits for fallen cakes. That can be because the oven didn't reach temperature before the cake was put in, or the oven temperature is incorrect, or the oven door was opened too early.
The baking soda or baking powder were too old. Be sure to use fresh baking soda or baking powder to ensure that the cake rises every time.
If the cake comes out of the oven too early the moisture left in the center can cause it to fall. Bake until a cake tester comes out clean or with only a moist crumb or two attached.
It was removed from the pan too soon. A Bundt cake needs to cool in the pan for 15-20 minutes before turning it onto a cooling rack. If it is released when it is too hot it can collapse in the center.
Stuck Bundt cake
If your cake is stuck in a Bundt pan, try taking a thin plastic utensil and go around both the edges of the pan to help it release from the pan.
If that doesn't work try banging the pan a few times on the counter. Then flip it over onto the cooling rack. Whack the bottom of the cake pan to help it release and wait for gravity to pull it down.
You can place a hot moist towel across the top of the pan. The steam from the towel will help to release the cake. After 10 minutes try flipping the cake upside down.
How to salvage a fallen or stuck bundt cake?
If the Bundt cake fell or was stuck in the cake pan, don't worry. It happens to everyone at some point. The quickest option for fixing a Bundt cake is to make it into a kind of mock trifle.
Cut up the cake into pieces and layer it in a serving dish with a little sauce (try triple berry sauce or caramel pecan sauce) and a little whip cream. A proper trifle needs to sit overnight, but this will do in a pinch.
A great way to use up frozen cake is to make a trifle or cake pops. These options take a little more time, but are delicious!
Other uses for a bundt cake pan
Bundt pans are not only for cakes! For many years we have made Monkey Bread in our classic pan. It can also be used to turn frozen dinner rolls into pull-apart bread or pizza bites. Yum!
👋🏻 Connect with us!
If you try this recipe, please leave a comment and star rating to let us know how it is! We'd also love to connect with you on Facebook, Instagram, or Pinterest. Tag @borrowedbites or hashtag #borrowedbites to show us your food!