Sunday Dinners are a powerful way to slow down the fast pace of life and catch up with those you care about most. This 5-step plan will help you invest in a lifelong tradition that pays out in shared memories and amazingly delicious food. Plus, you can easily plan this tradition whichever night of the week works best for you!
Sunday Dinners is an idea that we are passionate about. If you want to read about what inspired it and why we believe it is a powerful tradition jump over to our post Why a Sunday Dinner Tradition is So Powerful.
Skip to:
A couple of disclaimers before we begin. We are calling this "Sunday Dinner" because that is when we do this and because there is a long-standing tradition in America of families getting together after church on Sundays for a special meal. However, Sunday is by no means the day this has to happen. The benefits are the same whether it's a Friday night, Saturday Brunch, or whether you meet weekly or monthly. The idea is to choose a time that works for your family and set it aside with intentionality.
The following is written as if an extended family is deciding to start this tradition and so the word family is used. This by no means is intended to communicate that it only applies to families.
The goal of this post is to 1) inspire you to see that a regularly scheduled time to get together with those you love to eat, talk, and laugh is possible, and 2) give you practical ideas to help you make a plan that will work well for YOU. Along the way I am going to share what works well for us, but that is not to say this is the only way to do this successfully. Find what works for you and settle in. This is a tradition worth keeping.
🗓 5 Steps to Plan Your Sunday Dinner
Step 1: Decide on who you want to invite and which day and time.
Sunday afternoon during football season works best for our family, but maybe Friday night sounds better to you. Or a weekend brunch instead of dinner. Maybe every other week. Or even once a month. The goal is to consider what works best for the majority of people.
Step 2: Decide on timing.
You can be as relaxed or strict about the timing as you are comfortable with. Questions to ask are:
When should people arrive? What time should they expect to eat? When will dessert be served? When should they expect to go home?
Step 3: Decide on style.
Do you want it to be casual or more formal? Buffet or sit-down dinner style? Disposable paper goods or real dishes?
Step 4: Decide on how to divide the cooking.
Families take turns feeding everyone? The same person does all the cooking every time? Each family or person brings something to contribute? Know your group. If sharing the cooking means that people will shy away from coming maybe that's not the best idea. If many people in the group love to cook then sharing the cooking might be a win-win for everyone. Don't be afraid to tweak any of these plans down the line, though. The goal is to find something that works. If you start and it doesn't work try doing it a little bit different until you find what does work.
Step 5: Decide on investment of time and money.
Decide how much you are able or willing to spend each week both in time and in money. There is no denying it. Hosting on a regular basis can put a dent in the wallet and calendar. If you feel short in one or both don't let that stop you. There are plenty of creative ideas around each of those. Knowing ahead of time what time or money is available will help with the decision making process.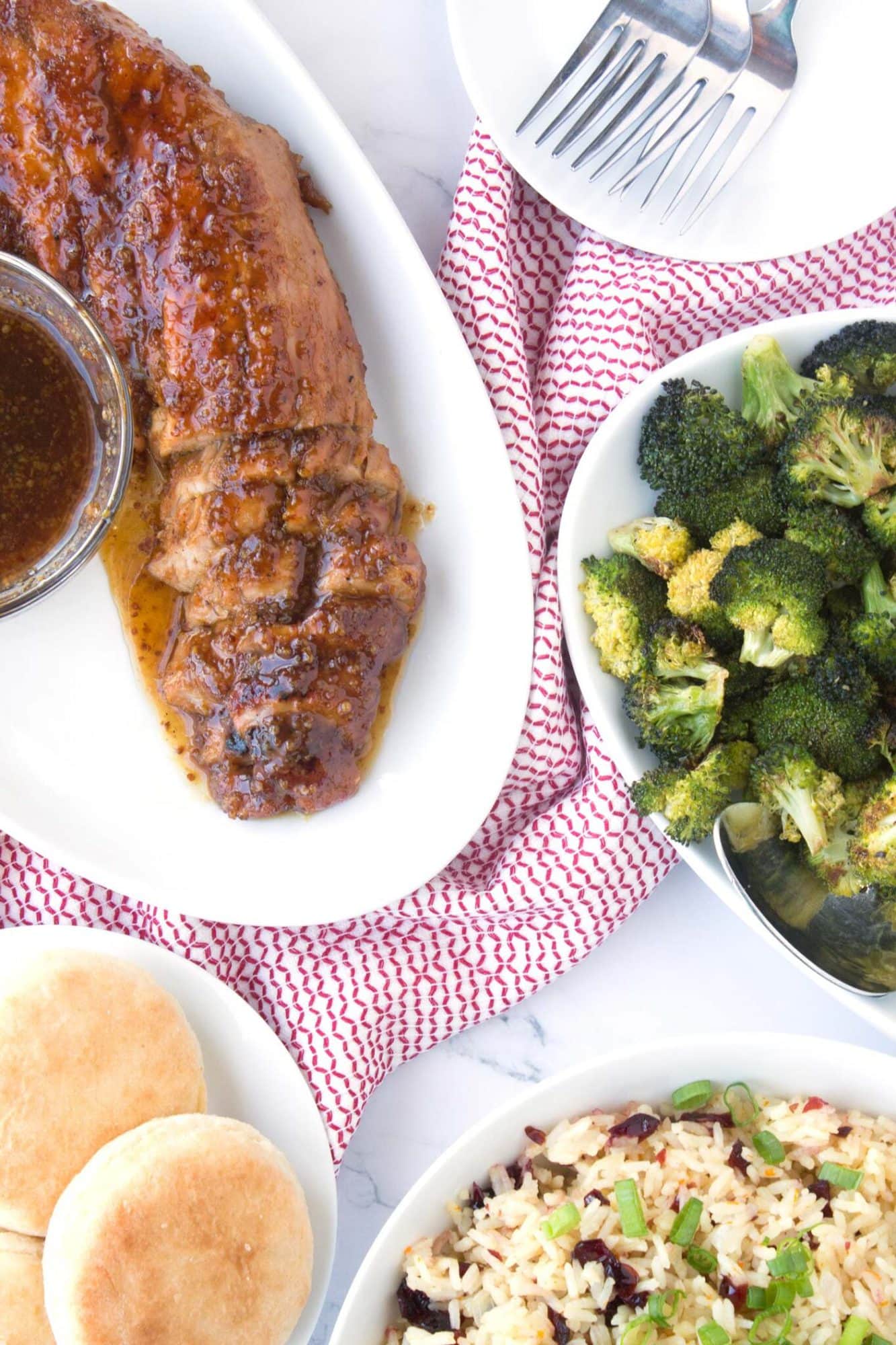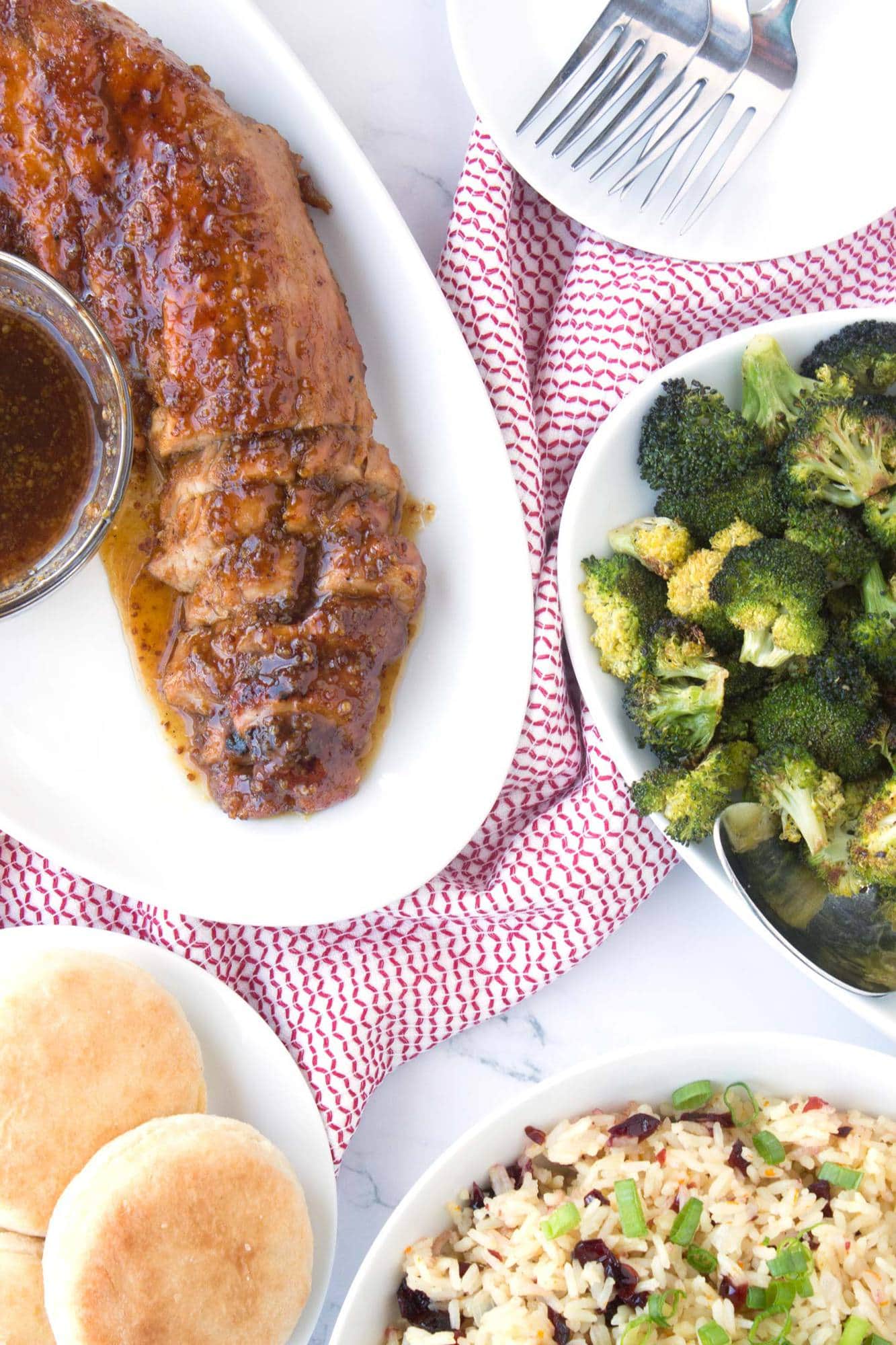 🔪 How to put together a menu
Now that you know who is coming, when you are getting together, and how much time and money are available to invest in this endeavor, it's time to choose the menu. For me this part is by far the most fun.
My biggest piece of advice is to find the balance between amazing food and how much time needs to be spent cooking. On the one hand you don't want the cooking required to be overwhelming, but on the other hand you want the food to be delicious enough that people want to come back again and again.
If you are short on time, pick the items on the menu with the biggest bang for your buck. Take shortcuts on the items that are truly delicious from the store. For me that oftens end up being the bread and the salad. I often buy really good bread from Costco or Sams and keep the salad very simple, like a knock off of Olive Garden.
Also, I almost always make the dessert ahead. As a matter of fact I like to keep this cookie dough, this ice cream topping, and this bundt cake in the freezer all the time. That way if I run out of time to make dessert these can bail me out. If I don't have anything in the freezer, then I will grab some vanilla ice cream and bake a box of Ghirardelli brownies. #heaven. For a truly last minute life-got-away-from-me kind of moment there are always root beer floats.
If you want to see what a typical menu looks like head to our Sunday Dinners page.
👨‍👩‍👧‍👦 Tips for hosting a crowd
The easiest way to serve more than 10 people is to set up the food buffet-style. Start with the plates at the beginning and if possible the silverware at the end. Layout food in the logical way it needs to go on the plate. For example, if you are serving hamburgers be sure to put the buns before the burgers.
I love to serve dinner on large white platters. However, the food tastes equally delicious served from tin foil pans. If you decide you want to collect serving pieces, try garage sales, thrift stores, or wait until they go on a really good sale at your favorite store. My favorite place to buy trays, platters, and bowls is Sur la Table. I wait for a great sale and then buy 2-3 of each size. #whiteservingdishesaddiction 🤷🏼‍♀️
It is important to make sure you have enough serving utensils for all the dishes. Try and collect 3-5 large regular serving spoons, slotted serving spoons, tongs, small serving spatulas, and a couple meat forks. Again, I try to buy multiple of each item if I can.
For easy clean up use disposable plates, silverware, and cups. Buying in bulk at Sam's Club or Costco only adds on a couple dollars per mealtime.
Place a sharpie marker next to the cups so that everyone can label their own. Not very classy but very efficient.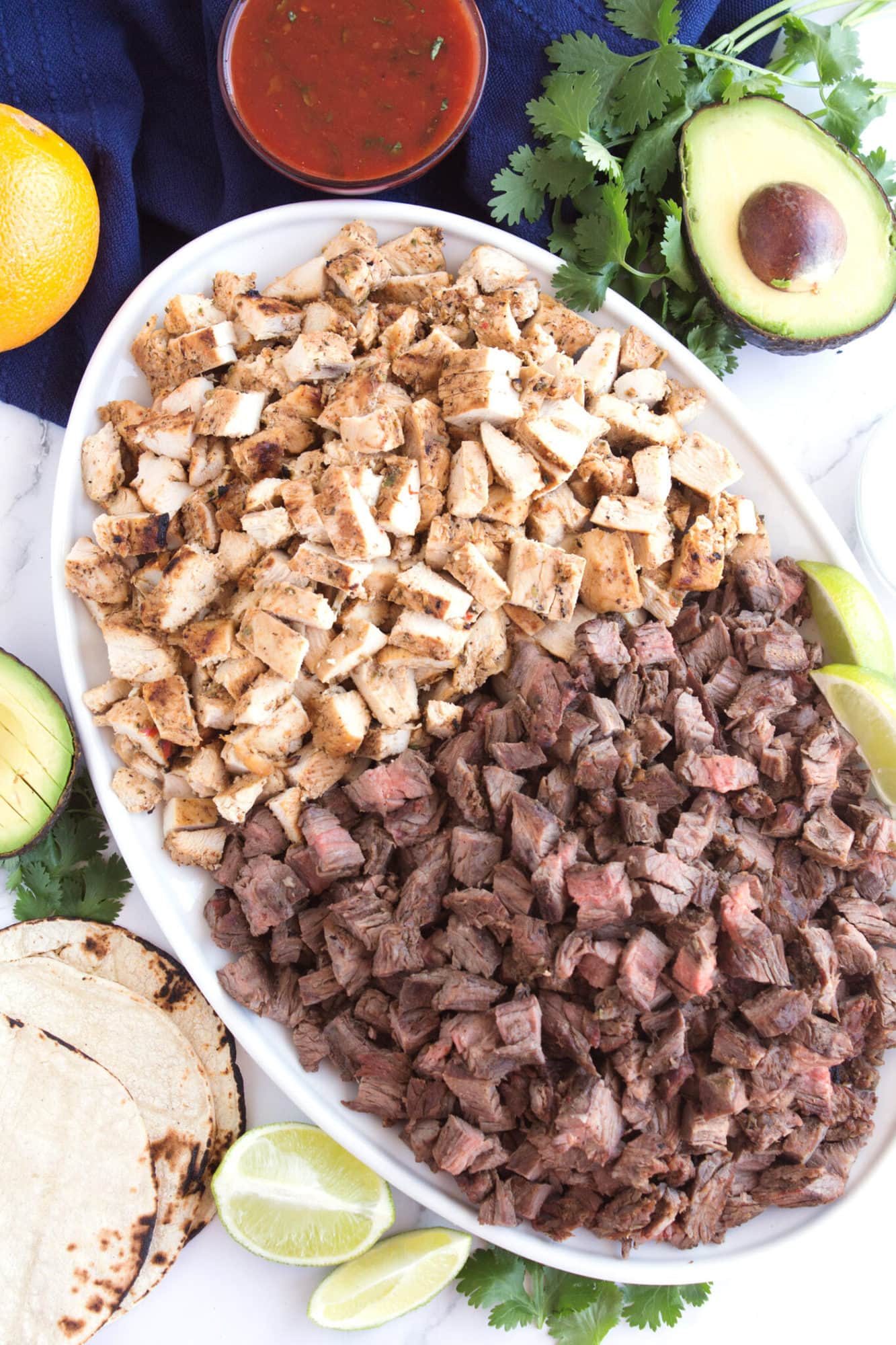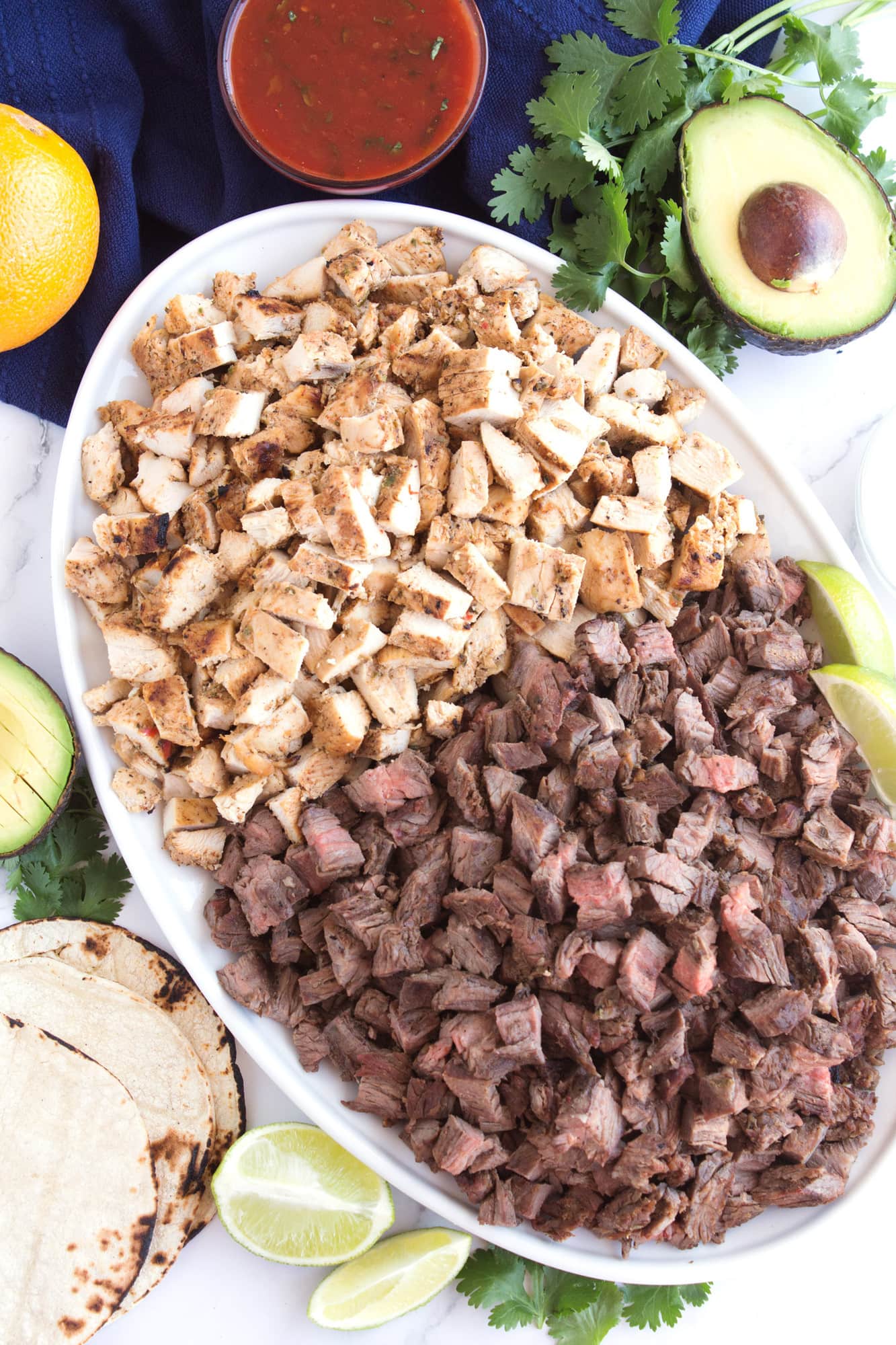 🙋 How we do Sunday Dinner
I am sharing this as an example of how Sunday Dinner can be done. By no means is this the only way. Take what will work for your family and toss out the rest. We host around 20 people on Sunday afternoons during football season, which is September through February.
Our family (extended included) goes to church on Sunday mornings, although we don't all attend at the same time. In light of that, I had to decide on a time that worked for everyone. People usually start showing up at my house around 1:30 pm. We eat the meal at 2:15 pm and serve dessert around 4:00 pm. This allows people who need to use Sunday evening to get ready for the week the chance to do so.
We are a very casual family. At family gatherings we use disposable plates, bowls, silverware, and cups. We would all rather sit around talking than stand around doing dishes. The meal is always served buffet-style so that each person can serve themselves. I would love to serve it family-style around the dining room table, but there are too many people for that. Some people eat at the kitchen table, some at the dining table, and others in the family room in front of the football game. Honestly, though, these days are not about football. They are about getting together and football is on for the few who watch it.
Since our Sunday Dinner tradition was replacing going out to eat, and because I really do like to cook for people, I decided the best way to get people to come was to cook myself. Plus, I knew that I didn't want it to take much longer than if we went out to lunch. That way everyone knew that they could be home at a reasonable time on Sunday afternoon. If everyone brings something it is hard to get it on the table at the same time each week.
I have cups, the ice bucket, water, and iced tea out when people arrive. If they want something other than that to drink they bring it themselves. This is the least expensive way for everyone to have what they want. I do not have appetizers out because I put all my effort into the meal and dessert.
Just because I am doing the cooking doesn't mean I can afford the extra few hundred a month on serving everyone. Maybe someday.🤞🏻 So I asked my family if they would be ok if we started a jar. I tell them each week how much it cost per person and they pitch in for each member of their family. My goal is only to cover the costs of the food and supplies, not to make money off of anyone. The cost falls between $2.50 and $5.00 per person, but it usually lands at about $3.50. Pretty good for a whole meal and dessert.
Now, I know that this may not work for every situation. My family is very casual and very open to this kind of out-of-the-box thinking. The real reason I want to share how we do it is so that you are encouraged to see if this or some other out-of-the-box idea might work for you.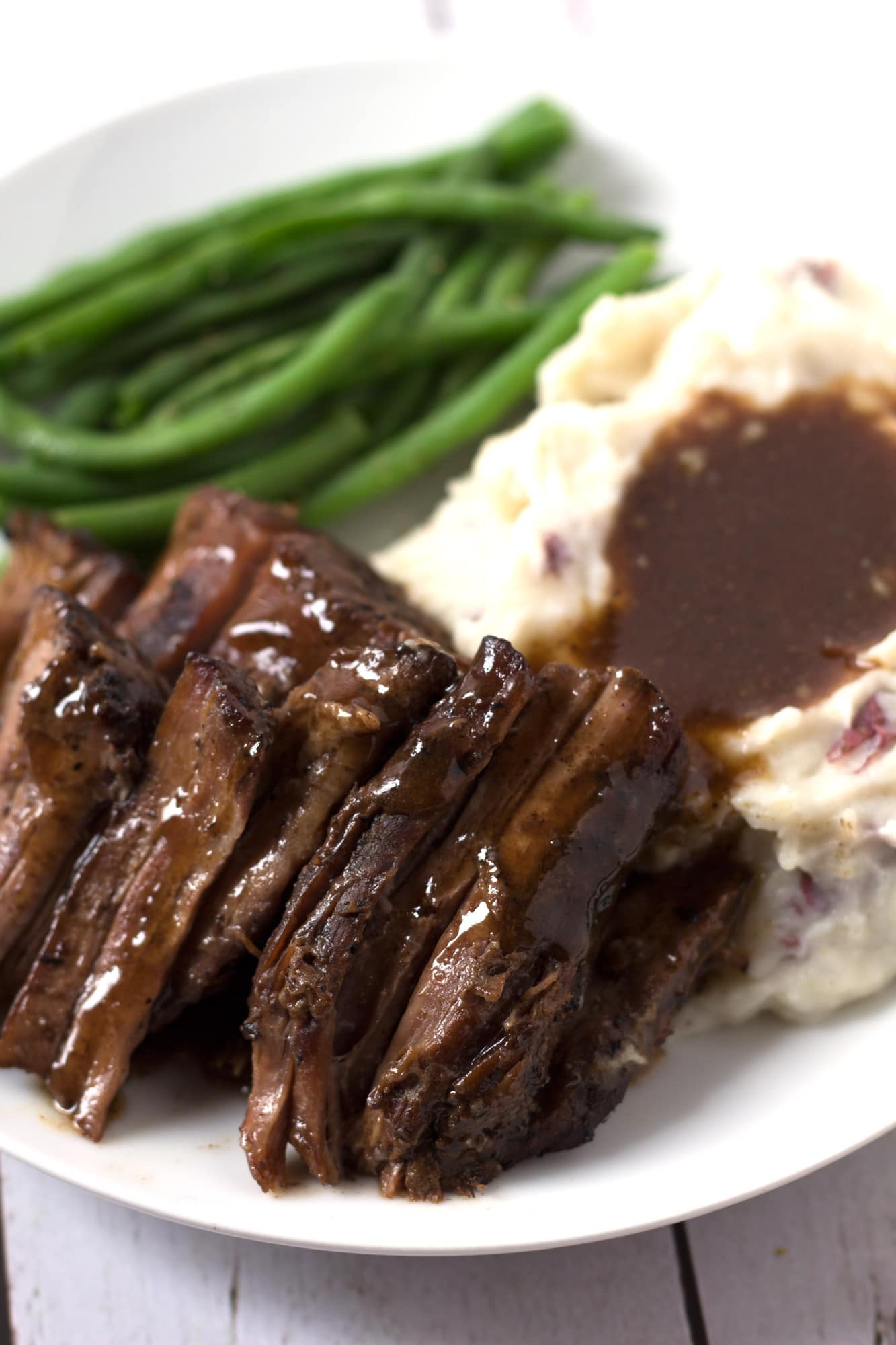 📖 Sunday Dinner Menu Plans
If you are looking for a pre-planned menu to serve look no further. All of our Sunday Dinner menus include a free pdf with a menu, shopping list, multiple prep timelines, and serving suggestions. Here are a couple to get you started.
This Sunday Dinner: Pot Roast Edition is a cozy meal worthy of grandma's kitchen. Fall apart pot roast served over fluffy mashed potatoes alongside flavorful veggies, simple salad, and tender biscuits.
Sunday Dinner: Chicken Tinga Taco Edition is shredded chicken bathed in a smokey tinga sauce all wrapped up in corn tortillas and topped with sweet and spicy salsa. Serve alongside creamy refried beans and tender rice with juicy bits of pineapple. Bring on the fiesta!
Pork tenderloin in a sweet, sticky honey butter sauce, with moist and nutty rice pilaf, flavorful green beans, soft rolls, and a mini diy salad bar makes this Sunday Dinner: Honey Butter Pork Tenderloin Edition a must! Finish with a simply delicious lemon cake.
Tender bites of chicken and flank steak come together with grilled veggies, juicy pineapple and tropical inspired sides (toasted coconut rice, pineapple lime rice, and asian slaw) in this Sunday Dinner: Tropical Grilling Edition to create a feast fit for any summer occasion. For dessert serve up raspberry crumble bars on their own or with ice cream.
This Sunday Dinner: Grilled Taco Edition features chicken or steak in an easy blender marinade all wrapped up in corn tortillas and topped with the most amazing salsa. Paired with cilantro lime rice and black beans, this is a dream fiesta menu! Finish it off with a Caramel Pecan Sundae!
👋 Connect with us!
If you have any questions or want to share a story about your Sunday Dinner tradition please do so in the comments below. We'd also love to connect with you on Facebook, Instagram, or Pinterest. Tag @borrowedbites or hashtag #borrowedbites to show us your food! To get our new recipes straight to your email, subscribe to our newsletter.