Sunday Dinner is a powerful tradition that will help your family slow the rhythm of life to connect with one another, serve others, grow as people, and pass on family culture. Whether weekly or monthly, morning or night, with family or with friends, this tradition will help you build your own lifelong memories!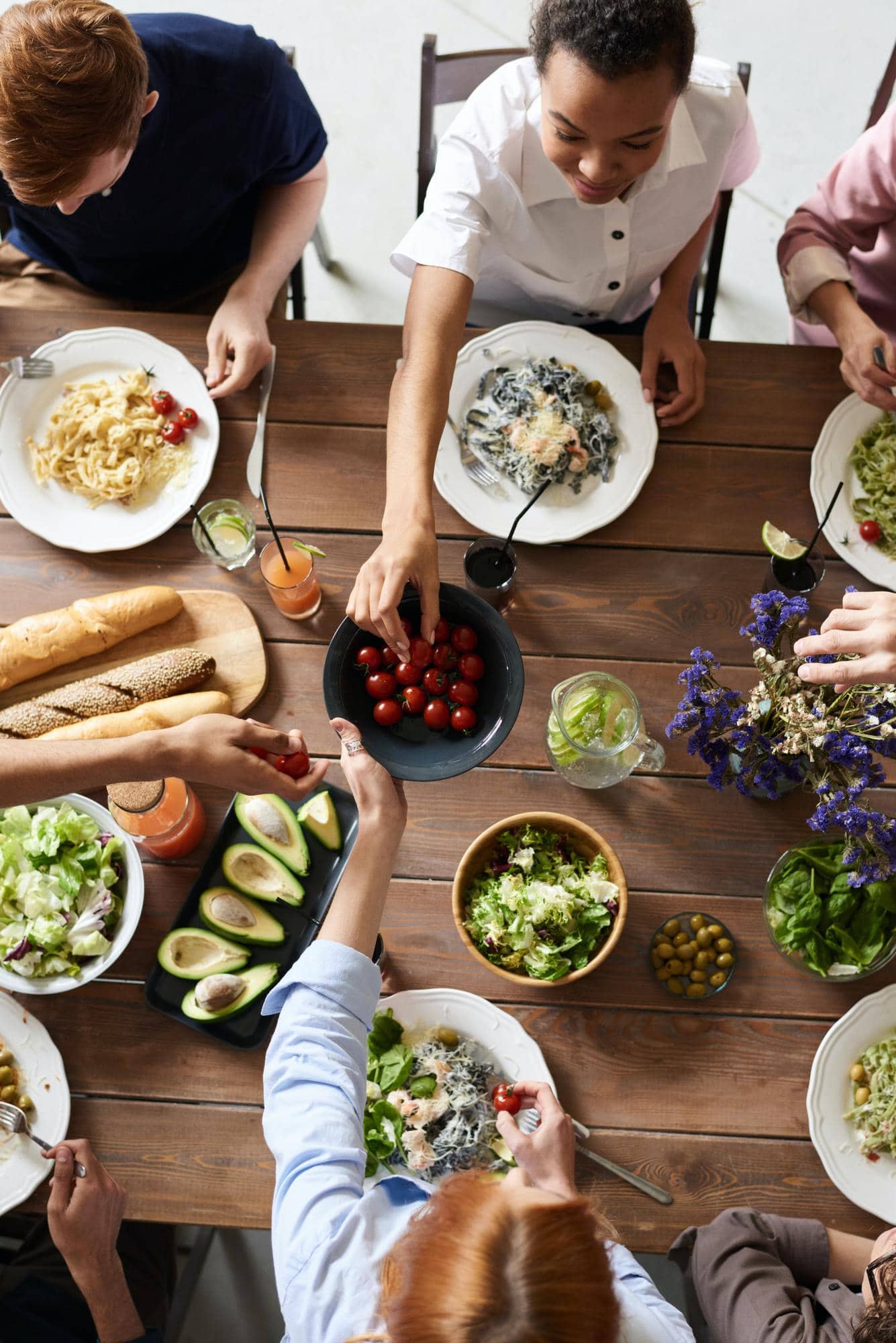 ** This post touches at the very heart of why we started this website and why we continue to work to produce recipes for you to share around your table. Blogging is rewarding but exponentially more challenging than we could have ever imagined. It is our hope that when you are finished reading this, you will be inspired to intentionally meet with those you love over good food. Now on to the real post! **
Skip to:
🍽 The Power of Sunday Dinner
As I sit to write this it is early August 2020. The world is experiencing a global pandemic. Life as we know it has been turned upside down. There are so many negative consequences to this season. Loved ones isolated from each other is one of the biggest. But on a positive note, it has given many families a chance to slow down...take stock of what is important...recognize the fragility of life...ask how they want life to look different going forward.
At some point, don't we all say that life is too short? That we wished we said, "I love you" more often? That we spent more time together? Luckily, there is a relatively simple, yet powerful, first step we can take to ensure that the rhythm of our family doesn't become a victim of that regret. All we have to do is schedule a regular time to gather everyone up, spread out some delicious food, and talk to one another.
Who doesn't love the idealistic picture of everyone gathered around a table, plates piled with good food, and laughter interrupting bites? Maybe grandma cooked her famous meat sauce. Or Uncle Joe just pulled his world famous ribs off the smoker. Maybe someone picked up pizza and you made a tasty salad to go with it. Did you finished it off with The Perfect Chocolate Bundt Cake? Wow! Aren't you lucky?
Each of these recipes can be seen as just food, or they can be seen as the bait to get people to sit and linger. To tell stories of their week, share what's on their heart, and utter the latest joke. That's why we are passionate about sharing recipes that bring family to the table.
Around the holidays is usually when people start thinking about family traditions. But what if the benefits of traditions are better used throughout the year to build strong relationships?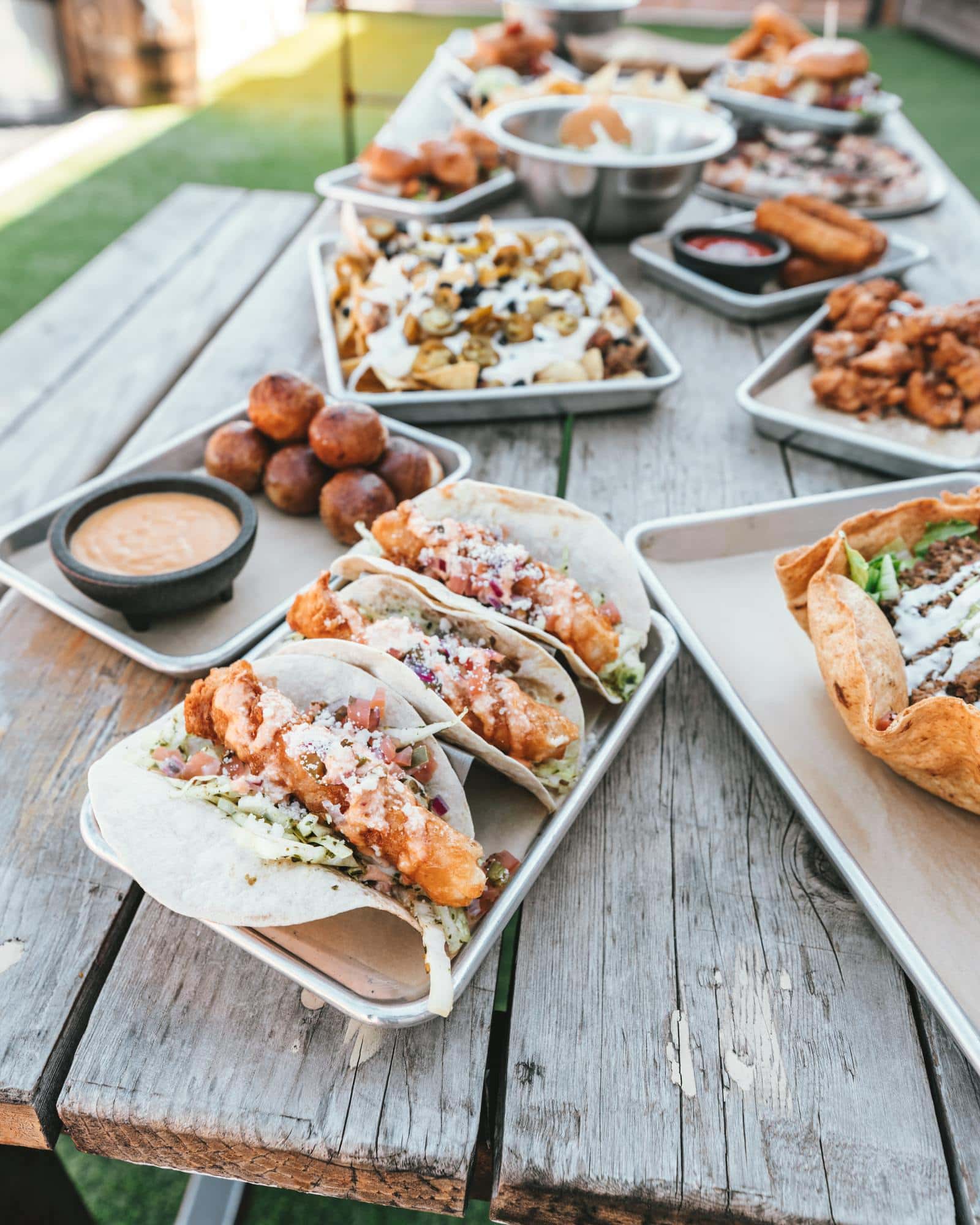 👪 Benefits of Traditions
They help us to take a step back from the hamster wheel to talk, laugh, and play with those we love. It's these shared moments that build memories and ultimately create dynamic relationships.
They fill that need we all have to connect with other human beings. A place to belong. A chance to care for others and to be cared for. A moment to bond.
They allow us to think of others above ourselves. Usually tradition involves some type of investment in time and/or money. That is especially powerful when we model this servanthood for our kiddos. Much of our culture is me-focused rather than others-focused. What a powerful message we send when they see us taking the needs of others into consideration.
A chance to grow as people both in wisdom and in understanding. One of my favorite parts of Sunday Dinner is when I hear one of my kids talking to one of their aunts/uncles, cousins, or grandparents about something they need guidance with.
Impart and create your family food culture. Growing up, one of my grandmas always served buckwheat pancakes with honey butter syrup and my other grandma made beef & noodles. Those recipes are a part of my family's food culture now. As my kids get married and begin their own families they will take some things from our family and some from their spouses' family and end up with a food culture all their own.
📖 Our Sunday Dinner Story
Many years ago when my kids were much younger (read: eating much less😉) we had a tradition of going out to lunch a few Sundays a month after church with our extended family members. This was right around the time of the economic downturn in 2008. One Sunday we went to Olive Garden for the all-you-can-eat pasta. Our bill came to $80 with tax and tip. This was for a family of 7. Not too bad, but all I could think was that if we did that 3 times a month it would cost us $240 a month. I started choking. Eek!! And they weren't all eating adult meals yet. I knew we were in trouble.
Then came the lightbulb moment. I could have the whole family over (18 people at that time) and serve spaghetti, salad, and bread for around $30. Oh my! What a savings! And it meant that we could sit in comfortable chairs around our table and the kids could run off and play instead of sitting around the table bored. A Sunday Dinner Tradition was born!
Now, on any given Family Football Sunday during football season (September through the first weekend of February) you will find 20+people at my house eating, laughing, talking, sometimes crying, but always sharing life with each other.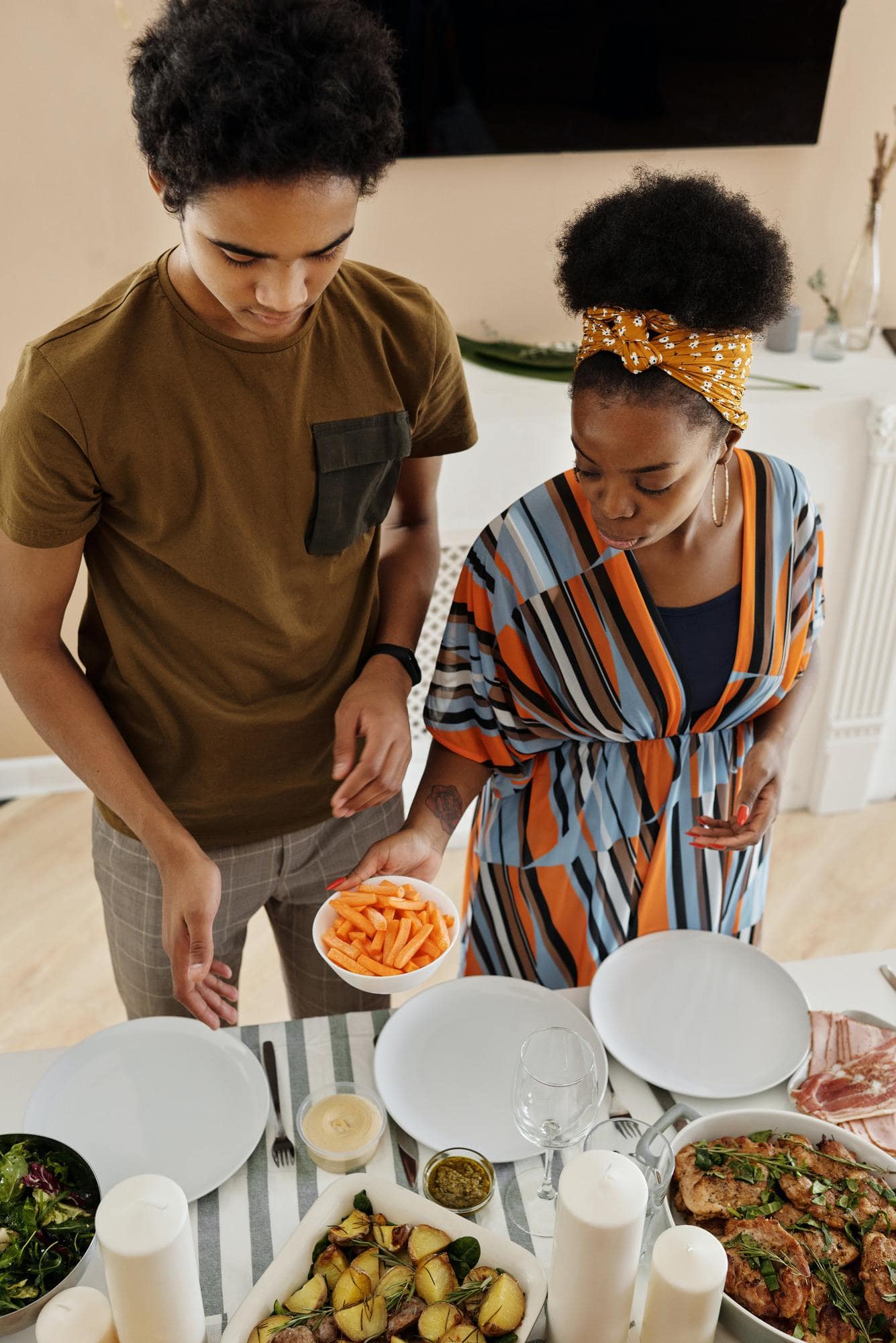 🙋 Questions & Answers
Does the food really matter?
Yes and no. The goal isn't to be legalistic about the food being served. Rather to use food as a way to draw people together. If you are short on time decide which items on the menu will give you the biggest bang for your buck. Take shortcuts on the items that won't matter as much. For example, I have purchased fried chicken tenders from a nearby restaurant but made homemade macaroni and cheese, a family favorite salad, and buttery dinner rolls to go with it. For me that is a good compromise.

Does it have to be on Sunday?
Absolutely not. We are calling it Sunday Dinner, but maybe Friday night works better for your group. The idea here is to carve out a time in regular intervals. For us Sundays during football season works. Maybe for you monthly seems more doable. The day and time do not matter as long as they work for you and those you want to spend time with.
What if my family is too small/or does not live near me?
Let me encourage you. When my in-laws moved here they didn't have any family nearby. But over the years that has transformed into a vibrant life filled with kids and grandkids. Just know that it is never too early to start. Another option is to begin this tradition with friends.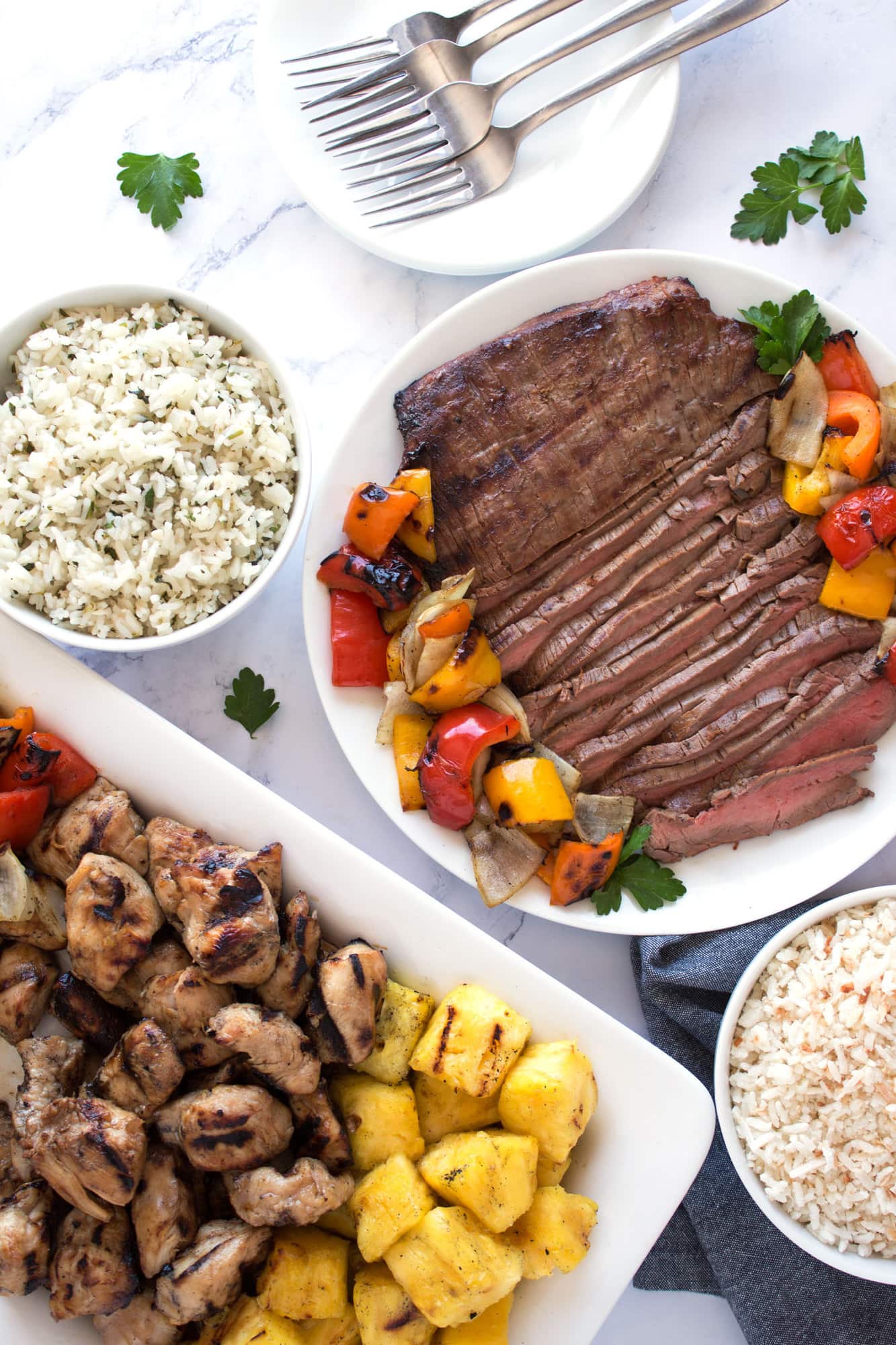 📋 Sunday Dinner Tradition Ideas
Our Sunday Dinner plans have PDF's containing a menu, shopping list, serving tips, and multiple prep timelines.
Want a step-by-step process for starting your own Sunday Dinner tradition? Or ideas for how to customize it to fit your family? Coming in early September will be our guide full of practical tips & tricks to help you start your own Sunday Dinner tradition.
👋 Connect with us!
We'd love to connect with you on Facebook, Instagram, or Pinterest. Tag @borrowedbites or hashtag #borrowedbites to show us your food! To get our new recipes straight to your email, subscribe to our newsletter.